People travelling to Canada will need to conduct PCR tests in a different country after the North American country indicated that it will not be accepting PCR test results conducted in Zimbabwe, South Africa, Botswana, Lesotho, Eswatini, Namibia, Malawi, Mozambique, Nigeria and Egypt.
Instead, travellers from these 10 countries must have a test result conducted from what it described as a 'third country' presumably when they are in transit.
Canada was one of the western countries that on November 30, 2021, banned travellers from Southern Africa over concerns about the spread of the Omicron Covid-19 variant that was discovered by scientists in South Africa and Botswana.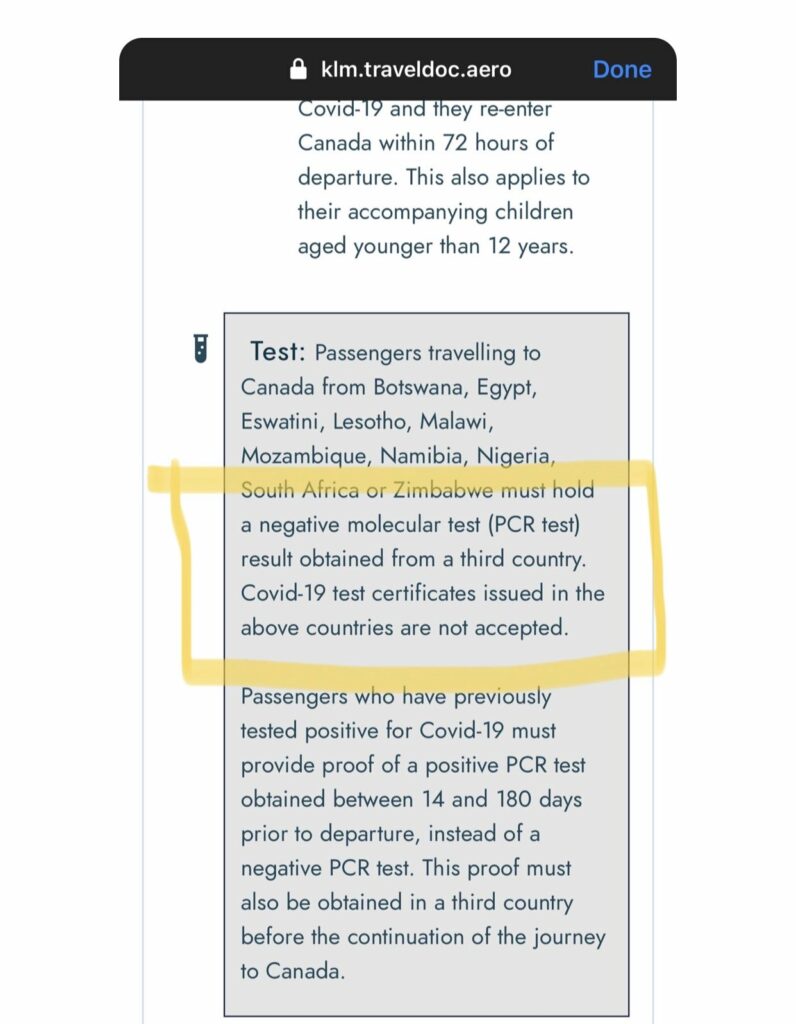 In its travel advisory memo, Canada said passengers travelling to Canada from Botswana, Egypt, Eswatini, Lesotho, Malawi, Mozambique, Namibia, Nigeria , South Africa or Zimbabwe must hold a negative molecular test (PCR) obtained from a third country.
"Covid-19 tests certificates issued in the above countries are not accepted," read the memo.
Canada said its citizens, permanent residents and those who were accorded status under the Indian Act who have been in the affected countries are allowed entry.
However, the country said they would be required to obtain proof of a valid negative Covid-19 test from a third country, meaning such travellers would need an in-transit PCR test result for entry into Canada.
"Canadian citizens, permanent residents, and people with status under the Indian Act who have been in these countries—Botswana, Egypt, Eswatini, Lesotho, Malawi, Mozambique, Namibia, Nigeria, South Africa, and Zimbabwe—in the 14 days before travel to Canada will be required to: Obtain, within 72 hours of departure, a valid negative Covid-19 molecular test in a third country before continuing their journey to Canada," the statement reads.
Travellers from the 10 countries will also be expected to "complete testing upon arrival to Canada, regardless of their vaccination status or having had a previous history of testing positive for Covid-19".
They will also be "required to complete a test on Day 8 after arrival and quarantine for 14 days", while "those arriving by air will be required to stay in a designated quarantine facility while they await their arrival test result".
"They will be permitted onward travel once they have received a negative arrival test result. Those arriving by land may be allowed to proceed directly to their suitable quarantine location," the statement reads.
"If they do not have a suitable and robust quarantine plan, where they will not have contact with anyone with whom they haven't travelled with, or do not have private transportation to their place of quarantine, they will be directed to stay at a designated quarantine facility.
"There will be increased scrutiny of quarantine plans for travellers from these countries and rigorous monitoring to ensure travellers are complying with quarantine measures.
"Further, (the Public Health Agency of Canada) PHAC is contacting travellers, regardless of their vaccination status or having had a previous history of testing positive for Covid-19, who have entered Canada from these countries in the past 14 days to direct them to be tested and to quarantine while they wait for the results of those tests."