By Gracious Nyathi
The Claim: Zimbabwe State Security operatives discovered and intercepted 3 trucks with weapons in Matabeleland South.
The Verdict: INCORRECT
An article purportedly from a news publication, The Zim Guardian, claiming that security details intercepted three trucks in West Nicholson in Matabeleland South carrying weapons has gone viral on various social media platforms.
The article claims some of the weapons include "Norinco rockets – a type used by the Taliban in Afghanistan – suitable for high-intensity warfare".
It went on to further claim that the shipment originated from Europe and its final destination was still being investigated by security officials.
Zimbabwe Republic Police (ZRP) national police spokesperson Assistant Commissioner Paul Nyathi was quoted in the article saying they have taken possession of the weapons.
Nyathi refuted this in a press statement: "The Zimbabwe Republic Police dismisses a report circulating on the social media platform and attributed to the Daily Mirror on alleged recovery and interception of large shipment of weapons in West Nicholson, Matabeleland South Province. The Zimbabwe Republic Police categorically states that it has not received such a report. The Police, therefore, dismisses this false story with the contempt it deserves and the public is advised to ignore it. The Zimbabwe Republic Police is now conducting investigations with a view of establishing the motive behind this false story."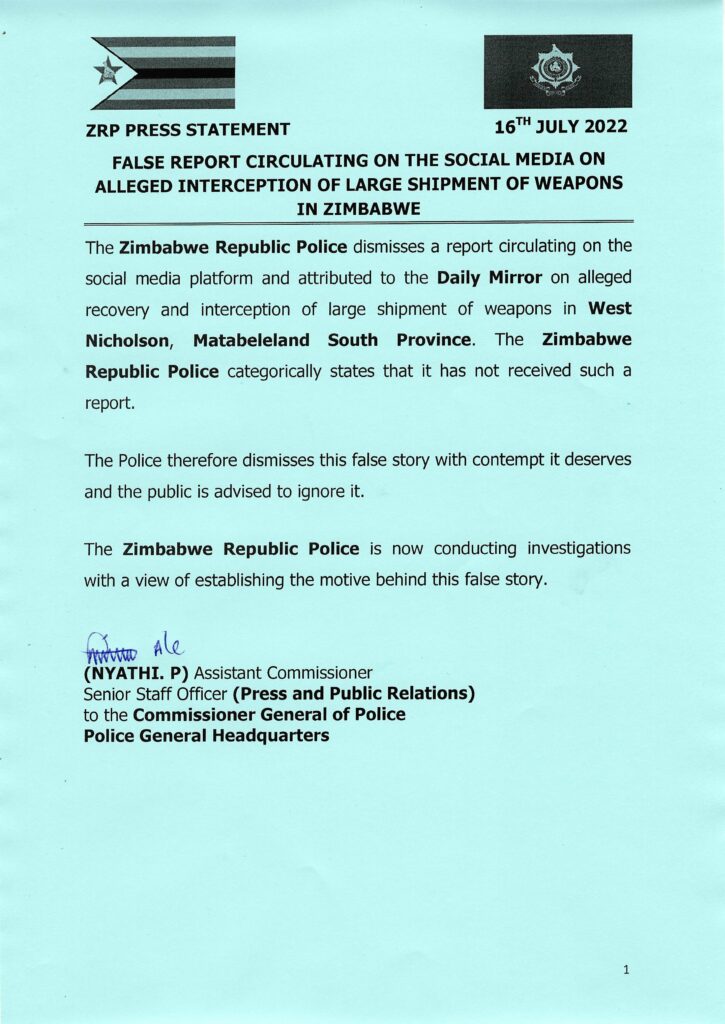 A lot of people feel victim to the false claims including Labour Economists Afrikan Democrats (LEAD) president Linda Masarira who shared the article on her Twitter timeline with the caption: "Zimbabwe will never plunge into war. The security sector in this country should ensure that all buses, haulage trucks, and vehicles at all borders are thoroughly searched. War is evil, it destroys lives, and infrastructure and the poor are always the casualties."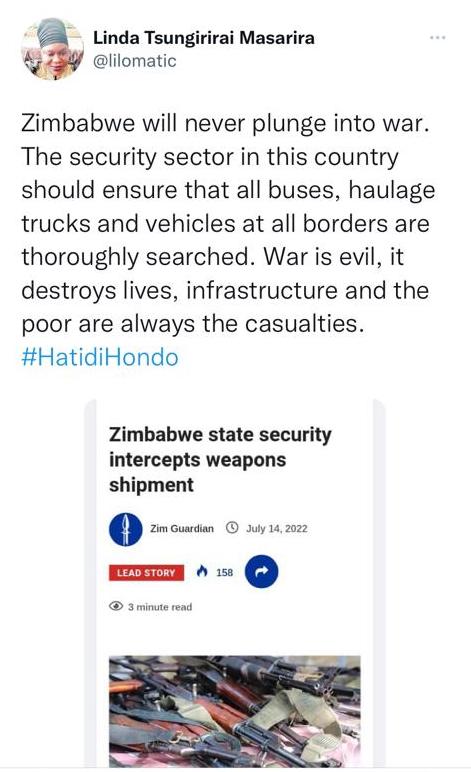 Conclusion: Claims that Zimbabwean security forces have seized an arsenal of weapons from three trucks in West Nicholson are false.