Claim: Hopewell Chin'ono has been appointed Vice President of the Citizens Coalition for Change (CCC).
Source: Social Media (Twitter)
Verdict: FALSE, Chin'ono is not the VP of the CCC party.
ON Monday, July 4th a Twitter user (@Twinsis50497431) shared a poster stating that outspoken journalist and government critic, Hopewell Chin'ono had been appointed the new Vice President of opposition Citizens Coalition for Change led by youthful aspiring Zimbabwean President, Nelson Chamisa.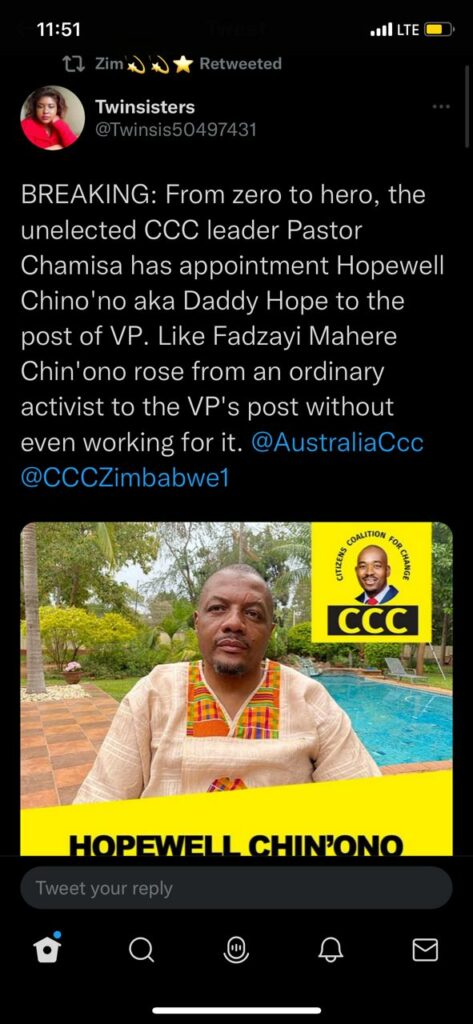 "Breaking: From zero to hero, the unelected CCC leader Pastor Chamisa has appointed Hopewell Chin'ono aka Daddy Hope to the post of VP. Like Fadzayi Mahere Chin'ono rose from an ordinary activist to the VP's post without even working for it. @AustraliaCcc @CCCZimbabwe1," the tweet read.    
However, in an interview, Chin'ono denied the claims insisting that he is not even on the opposition party's membership list.
"It is a lie (that I'm CCC Vice President). I am not even a member of CCC, this is just silly and dull propaganda," Chin'ono said.
All CCC positions are currently held on an interim basis as the party is yet to hold an elective congress.
Currently, the office of the Vice President of the party is jointly held by Tendai Biti and Professor Welshman Ncube.
CONCLUSION: Journalist Hopewell Chin'ono is not the Vice President of opposition CCC, no appointment were made by Nelson Chamisa in recent times.