Claim: Victoria Falls has achieved herd immunity
President Emmerson Mnangagwa claimed on his official Twitter account that Victoria Falls had achieved herd immunity, as 77 percent of the city had received their Covid-19 vaccine doses.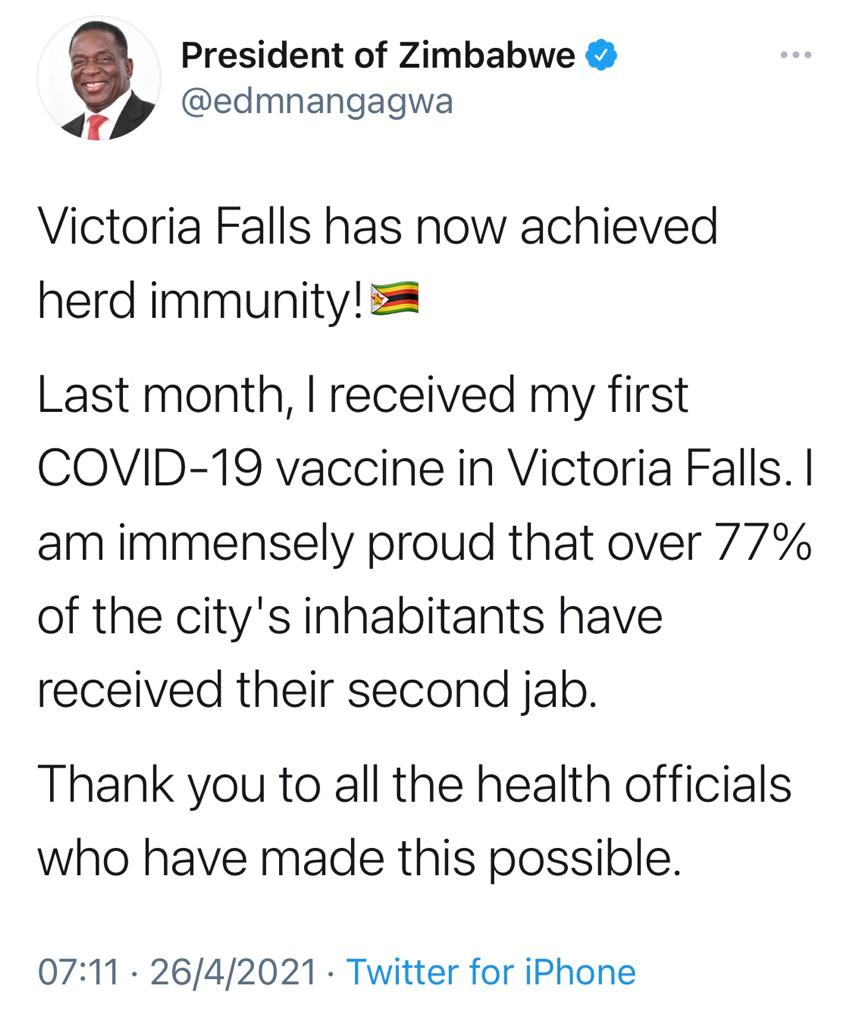 But statistics from the Ministry of Health show that only 3 737 people in Victoria Falls had received their second doses, which is less than the required 60 percent to achieve herd immunity.
Victoria Falls is targeting to vaccinate 25 000 people and to meet herd immunity this means roughly 60 percent of that number, which is 15 000 must be fully vaccinated with both doses.
In Zimbabwe, people have largely been vaccinated with the Chinese manufactured, Sinopharm and Sinovac vaccines that are taken in two doses.
So for people to be fully vaccinated, they need to have taken both doses of the vaccines, experts have said.
Acting Matabeleland North Provincial Medical Director (PMD), Dr Munekayi Padingani, said 3 737 people in Victoria Falls had received their second doses as of April 24, 2021, while 19 336 had received their first doses by the same date.
"45 804 people in the whole Matabeleland North province had by April 24, 2021, received their first dose," he said.
However, Dr Padingani implied the resort town had achieved its herd immunity as over 19 000 people had been vaccinated, yet majority of this figure was those who had received first doses only.
 "Our target was to vaccinate 25 000 people but over 19 000 have been vaccinated so that's ok," he said.
Mpilo Hospital Acting Chief Executive Officer Professor Solwayo Ngwenya confirmed that for a two dose vaccine one needs to take both doses to be fully vaccinated.
"Yes, taken 28 days apart,," he said.
Herd Immunity is when high percentage of a population is immune to an infectious disease, this provides indirect protection to those who are not immune to the disease.
Experts have said as with any other infection, there are two ways to achieve herd immunity: A large proportion of the population either is infected with a disease or receives a protective vaccine.
The latter has been the best option, which has seen the rollout of Covid-19 vaccines.
National statistics from the Ministry of Health and Child Care, said 53 418 people had been fully vaccinated with their second jabs, as of April 25, 2021.
"12 112 received their first dose on the day bringing cumulative total for first dose to 336 600 while 5807 received their second dose bringing the cumulative for second dose to 53 418," said the health ministry's daily Covid-19 listing.
As of April 25, Zimbabwe has recorded 38 086 cases, 35 123 recoveries and 1 557 deaths .
The national recovery rate stands at 92. 2 percent and active cases went down to 1 406 .
Local Government Minister, July Moyo who oversees Bulawayo's Provincial Covid-19 taskforce, said "medical tourism" was now thriving in the resort town as people were flocking Victoria Falls to be vaccinated.
"There are people who now want to go to Victoria Falls, not because they want to be ordinary tourists but because they want to be vaccinated, especially from our neighbouring countries. They were assured of vaccinations and we had to say yes they can come but we will charge. For Zimbabweans it is free but for tourists we will charge," he said.
"The charges are given and people in the medical field know the charges. The medical tourism in Victoria Falls is working. I think I know it might have contributed to these numbers but this is what we hope."
The minister said since Victoria Falls was the country's prime tourism area, all adults should be vaccinated.