A screenshot of a medical journal went viral claiming a Covid-19 vaccine had 'huge' results for men.
…
News of countries waiting on a Covid-19 vaccine is gaining traction every day but that is not the only information making rounds.
People on social media are busy spreading therapies believed to cure the coronavirus and conspiracies that may discourage others from taking the Covid-19 vaccine.
Many claims are thrown around and one such claim making the rounds, especially on WhatsApp is a screenshot of a supposed medical journal that claims that the Covid-19 vaccine can make the penis grow by three inches.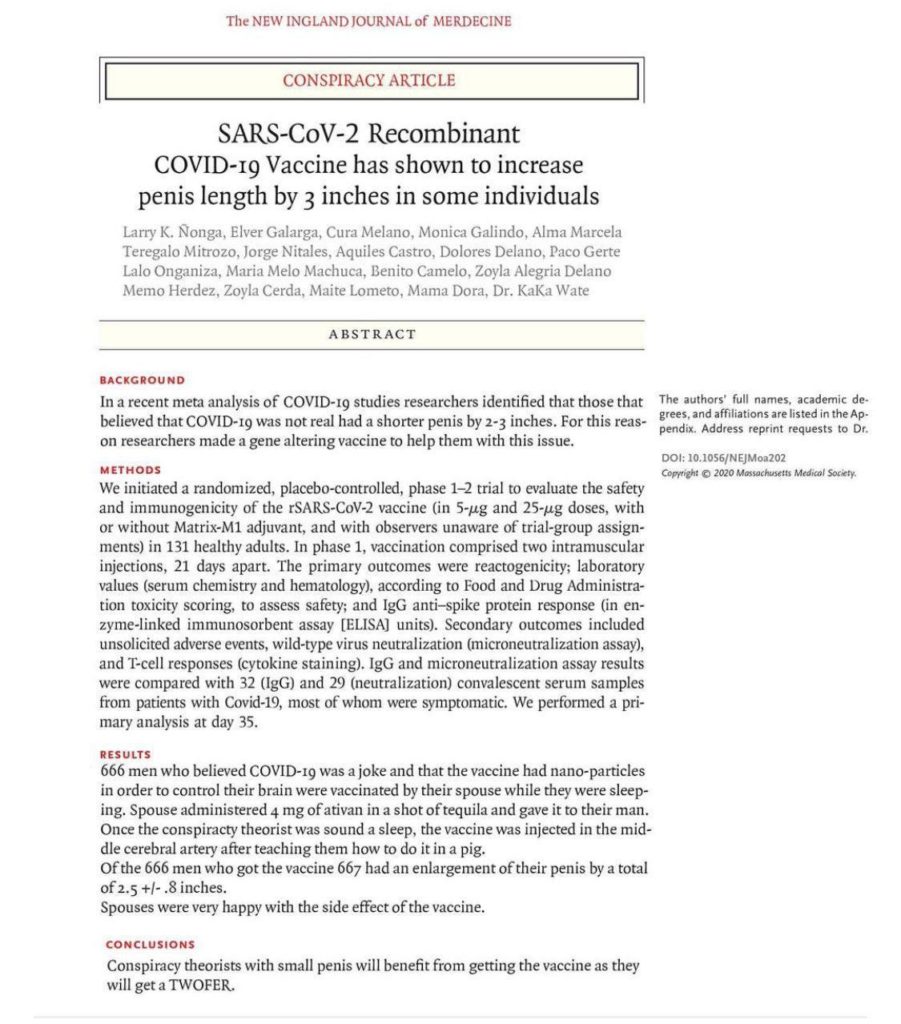 Online discussions that ensued after people saw that screenshot said such news would encourage men to take up these vaccines.
Such discussions indicate that people assumed its contents to be true as they thought it was published in a medical journal
Rather, a study in Italy in July addressing male sexual and reproductive health in the wake of Covid-19 found that erectile dysfunction was both a risk factor for Covid-19 pneumonia and also a "likely consequence" of the disease for survivors, making it a "worrying phenomenon" among elderly patients in particular.
A closer look of the screenshot rings alarm bells as it has many spelling mistakes, which are unlikely to be found in a peer-reviewed article.

The screenshot said the paper was published in the "New Ingland Journal of Merdecine" but an online search shows that it does not exist but is a play on the New England Journal of Medicine, a weekly medical journal published by the Massachusetts Medical Society in the United States.
The New England Journal of Medicine, is among the most prestigious peer-reviewed and the oldest continuously published medical journal and has not published a research paper on penis enlargement.
A media lecturer at the National University of Science and Technology (NUST), Clayton Moyo said such false but viral posts showed that there was a need for factual information during the sensitive era of Covid-19.
He noted that was an example of "infodemic" on Covid-19 that is fuelled by false information where people share and communicate unverified news about the virus.
"There has never been an important time for factual information as this one. The stakes are higher, we see it as a life and death situation because Covid-19 really is. This pandemic comes at a time when it is very easy to communicate facts and falsehoods," Moyo said in an interview.
Moyo added that when it came to Covid-19, there was a tendency towards amplifying health quackery, alternative and unproven treatments with no scientific basis.
"This is an immediate crisis as infections increase in Zimbabwe. We observe that the media are also quite uncritical, contrary to the role they are ought to play. You would think we have no scientists in this country, no one is talking to them. We hear all sorts of voices from every corner except the real science and medical experts," he said.
Due to false information around Covid-19, the World Health Organisation (WHO) said it was working with major internet platforms to make sure the organisation's information about Covid-19 appeared first in online searches.
In September last year, WHO said the coronavirus disease was the first pandemic in history in which technology and social media were used on a massive scale to keep people safe, informed, productive and connected.
WHO expressed concern that the same technology was enabling and amplifying an infodemic, which continued to undermine its global response, jeopardising measures to control the pandemic.
"An infodemic is an overabundance of information, both online and offline. It includes deliberate attempts to disseminate wrong information to undermine the public health response and advance alternative agendas of groups or individuals. Mis- and disinformation can be harmful to people's physical and mental health; increase stigmatization; threaten precious health gains; and lead to poor observance of public health measures, thus reducing their effectiveness and endangering countries' ability to stop the pandemic," WHO said in a statement.