Source: A twitter account @Fackcheckzw claimed the incident of a headmaster who stole maize happened in Malawi.
This is the story behind a Mtoko Headmaster. Thus a fake picture. Here is the story.@daddyhope @MthuliNcube @ProfJNMoyo @BitiTendai @nelsonchamisa @edmnangagwa @advocatemahere @maDube_ @edmypresident pic.twitter.com/5bIHYVz7H1

— @fackcheckzw (@fackcheckzw) February 25, 2020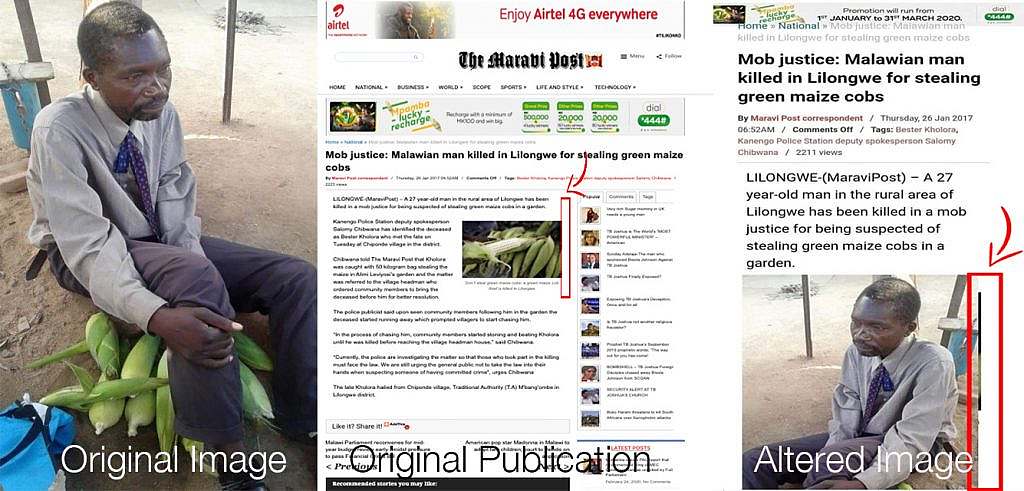 VERDICT: FALSE
Background: A picture of a headmaster found stealing maize in Mutoko went viral on social media, triggering people to express sympathies that professionals in Zimbabwe have been reduced to thieves in order to survive while state looting continues unabated. The teacher was identified as Joseph Chatikobo. But soon afterwards there were attempts by suspected state actors to deny that such an incident could have taken place in Zimbabwe.
We would like you to provide with evidence sir. If your story is real. This story is of 2017. https://t.co/Pj9KQ5f1Qi

— @fackcheckzw (@fackcheckzw) February 25, 2020
A twitter account @Fackcheckzw, claimed the headmaster's story was false as the issue was reported before in a Malawian newspaper, Maravi Post, in January 26, 2017 while the man in question who had stolen the maize was killed by a mob. The twitter account, also misspelt the name factcheck, posted the article from the Malawian newspaper showing the same picture of the teacher from Mutoko. There twitter account also attempted to claim the same story was covered by the Zambian Herald. The @Fackcheckzw, Twitter account details shows a website www.factchectzw.com which is not registered and does not open
However, CITE established that the original news article from the Maravi Post just had a picture of maize cobs and no human person. Instead, CITE verified that the recent picture of the teacher was doctored and imposed on top of Maravi Post's article to cover the maize cobs picture. The picture was also flipped from its original form.
It has since been verified that the headmaster is in Zimbabwe and was pictured at Jeksas, an area in Waterfalls Retreat by twitter user @larry_moyo.
FACT CHECK:
"MUTOKO HEADMASTER LOCATED"

We're here in Jeksas, an area in Waterfalls Retreat (Harare) where the so-called Mtoko headmaster works at a private college. He is currently in class. Saw him (maroon shirt)collecting papers from room behind me
***More to follow @HMetro_ pic.twitter.com/4LwbuRGCRK

— Larry Moyo (@larry_moyo) February 25, 2020