Claim: ERC staff assisting the SADC Electoral Observation Mission (SEOM) in writing about election experiences
Verdict: Incorrect
The Election Resource Centre (ERC) has dismissed a social media notice claiming the organisation is asking individuals to email them their election experiences so that they can be handed over to the SADC Electoral Observer Mission (SEOM).
The message read: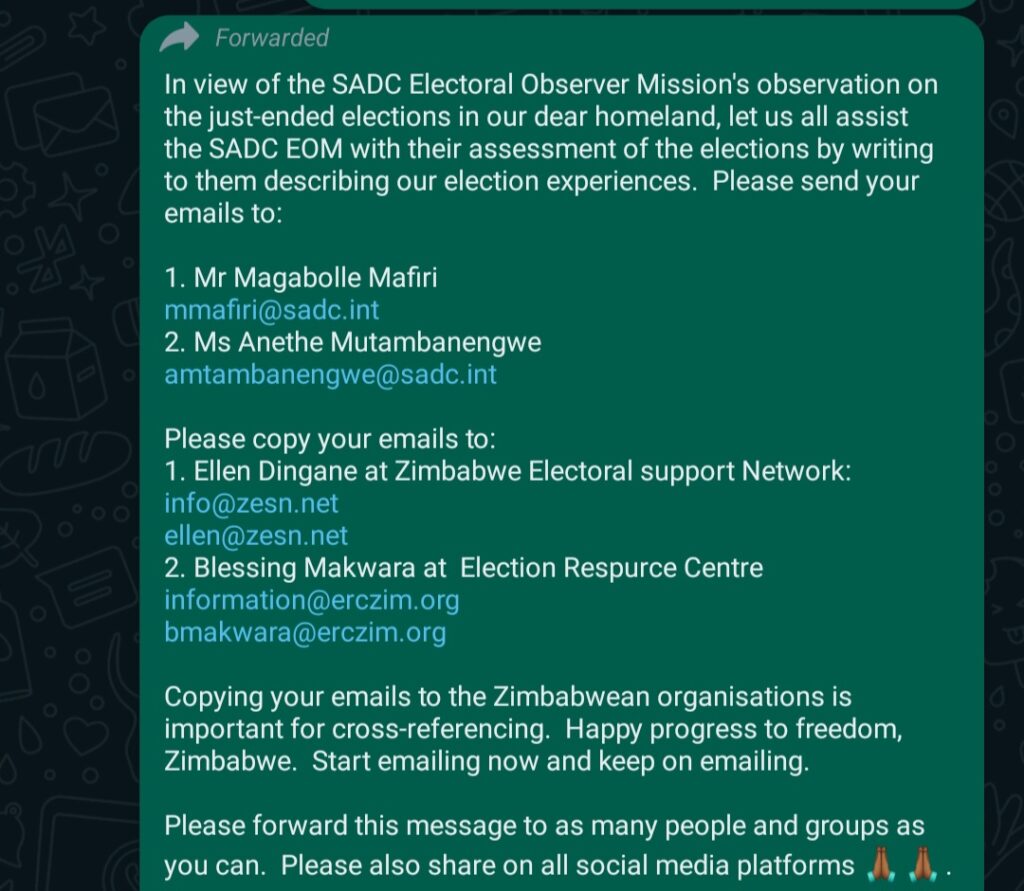 ERC has denounced these allegations as false and asked people to disregard the social media notice.
"ERC takes note of a notice circulating on social media that implicates ERC staff in assisting SEOM in their assessment of the elections by writing to them describing local elections experiences. ERC is not part of any such initiative," said the organisation in a statement.
"Kindly disregard the circulating message and do not send any email as purported."
These claims follow the arrest of ERC and Zimbabwe Election Support Network (ZESN) personnel and volunteers on suspicion of gathering to collect and aggregate Zimbabwe's August 23 poll results in preparation for the illegal declaration of the election result.
They were released on US$200 bail with strict reporting terms that required them to report to the police three times a week.  
ERC and ZESN employees will return to court on September 28, 2023, for a routine remand.
SEOM recently condemned Zimbabwe's ended harmonised elections for failing to meet the requirements of the country's own constitution, SADC principles and guidelines governing democratic elections.
However, Zanu PF has claimed that the mission's findings were motivated by the opposition and the West.
As a result, there has been a coordinated and targeted drivel directed towards Head of SEOM, Dr Nevers Mumba and other local progressive organisations by pseudo individuals and groups associated with Zanu PF, mostly known as the varakashi.
The ERC is one such organisation that has been attacked online.
SEOM criticised the involvement of the Forever Associates of Zimbabwe (FAZ) in the poll process, delays in the distribution of the voters' roll, and inability to provide ballot papers on time in many polling sites in its preliminary assessment.
Mumba said ZEC's delay in releasing the voters' roll, failure to make it searchable and analysable, and the high fees levied for its access were restrictive and affected stakeholders from verifying the veracity of the crucial poll document.