Tuberculosis is a leading cause of death globally, and the third leading cause of death in Zimbabwe, according to the Ministry of Health and Child Care. Bulawayo currently has the highest TB death rate in the country, at 16 percent, which is significantly higher than the national target set at 5 percent.
Tuberculosis (TB) is a disease caused by bacteria (Mycobacterium tuberculosis) that is spread from person to person through the air. The bacteria usually attack the lungs. But can attack any other part of the body. Tuberculosis is both curable and preventable.
According to the Open Journal of Epidemiology in its February 2022 edition, Bulawayo reported high tuberculosis death rates from 15.3% in 2016 to 14.2% in 2019 against a threshold of 5%.
Overcrowding in some of the city's settlements, delay in the seeking of health services, and TB/HIV co-infection have been identified as some of the contributing factors to high TB death rate in the city.
The city's death audits done quarterly by the health services department show a high number of deaths among people living with HIV who have comorbidities such as TB, while the department also indicates that the city receives terminally ill patients from neighbouring countries who in most cases succumb to TB. Bulawayo's high TB burden has been partly attributed to its close proximity to neighbouring countries (South Africa and Botswana) with high cases of TB.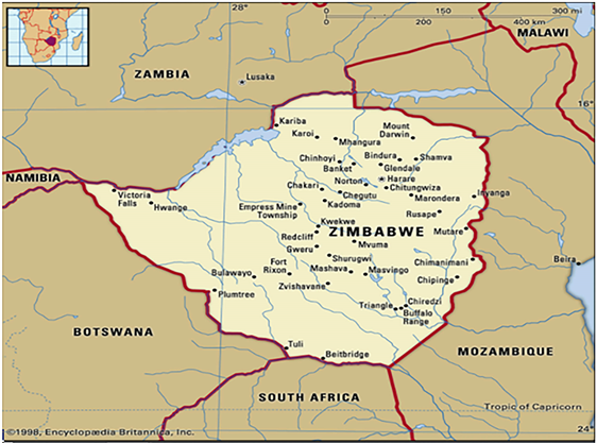 About 85% of people who develop TB can be successfully treated with a six months drug regimen, and since the year 2000, the use of anti-tuberculosis medicines has managed to avert more than 60 million deaths, according to the Open Journal of Epidemiology, however, new drug-resistant strains of TB are developing mainly due to patients defaulting from treatment.
Bulawayo is one of the provinces in Zimbabwe facing a growing burden of Drug-resistant TB. Due to its high TB incidence, the city is one of the three provinces (Bulawayo, Matabeleland South, Midlands) benefitting from the ongoing TB REACH project run by the Union Zimbabwe Trust, which has seen the purchasing of Gene- Expert machines for the testing of HIV, among other programme benefits such as contact tracing and awareness.
The International Union against Tuberculosis and Lung disease states that a total of 1.5 million people died from TB in 2020 globally (including 214 000 people with HIV). Worldwide, TB is the 13th leading cause of death and the second leading infectious killer after COVID-19, according to latest research from the World Health Organization.
In 2020, an estimated 10 million people fell ill with TB worldwide, 5.6million men, 3.3 million women and 1.1million children. TB is present in all countries and age groups and an estimated 66million lives were saved through TB diagnosis and treatment between 2000 and 2020, according to the Union.
Tb Transmission and Symptoms
TB bacteria are spread from person to person through the air, and TB germs are put into the air when a person with TB disease of the lungs or throat coughs, sneezes, speaks, sings, or exhales.
Some signs and symptoms of TB include coughing, coughing up blood or sputum (phlegm from deep inside the lungs). Other symptoms include chest pain, weakness or fatigue, weight loss, loss of appetite, fever and night sweats among others.
At risk populations
Tuberculosis mostly affects adults in their most productive years; however, all age groups are at risk. Statistical data from the World Health Organization shows that over 95% of cases and deaths are in developing countries.
The health authority also highlights that people who are infected with HIV are 18 times more likely to develop active TB. Other risk populations are close contacts of a person with infectious TB diseases such as caregivers or family and clinical practitioners.
Persons who have immigrated from areas of the world with high rates of TB and children under 5 years are also classified as risk populations.
The Union also classifies Groups with high rates of TB transmission, such as homeless persons, injection drug users as well as persons with medical conditions that weaken the immune system.
Other factors that contribute to high-risk profile are HIV infection (the virus that causes AIDS), Substance abuse and Silicosis, while Diabetes mellitus, Severe kidney disease and Low body weight are other factors.
Diagnosis
A sample of sputum is needed to see whether the person has TB disease, while a Chest x-ray, Urine and Stool tests are also done.
Prevention
TB is preventable and curable. BCG Vaccination (Bacilli Calmette-Guerin, 1921), Early Diagnosis and treatment, case finding, raising awareness, Health Facility and Community level interventions, and Contact Tracing are all ways of preventing tuberculosis.  Managing your environment, ensuring good ventilation, Natural light and Good Hygiene are also ways prevention.
Knowing the TB Signs and Symptoms of TB, seeking treatment early if you suspect you have TB, and taking your medication as prescribed are important for the prevention of TB spread.
Drug-resistant TB
Drug-resistant TB (DR-TB) is a general term used to describe a strain of TB that is resistant to one or more anti TB Drugs.
Drug-resistant TB is a specific form of TB that does not respond to ordinary TB treatment. As a result, it is difficult to treat and needs specialized treatment. DR-TB is man-made and is caused by the development of TB bacteria which have become resistant to "ordinary" TB drugs.
This occurs due to Inadequate or irregular management of "ordinary" TB, either by using inappropriate drugs or by using single drugs for "ordinary" TB.
It also happens when a person with DR-TB infects the other person with the bacteria causing DR-TB.
At risk, populations are in close contact of a person with DR-TB, Children under 5 years of age, People who have compromised immunity (HIV, Diabetes mellitus, cancer, malnourished), Health care Workers, Elderly people, People living in congregate settings such as Prisons.
Symptoms of DRTB include a Cough for longer than 2 weeks (dry/yellow/green/in some cases bloody stained), Weight loss, Fatigue, Shortness of breath, Fever, Night sweats, and Lack of appetite.
Once a person presents with symptoms/close contact of a person with TB, Sputum is sent to the laboratory where special laboratory test (Gene Xpert test) will reveal the TB and its sensitivity to one of the important drug (Rifampicin) (12-24 hours). Another specialised test (Drug susceptibility testing) will reveal sensitivity to other drugs used in treating TB.
Treatment
Patients with DR-TB will have to take at least 5 different drugs for 9 months or longer 7 days a week. Treatment is much longer than the "ordinary" TB (6-8months). Use of an "effective" regimen including Adequate patient support, Directly Observed Treatment (DOT), social economic support
Prevention
DR-TB can be prevented by Early diagnosis and treatment, Good cough hygiene "cover their nose and mouth when sneezing or coughing), Good ventilation of households is strongly recommended-keep windows and doors open, Limiting prolonged contact with people with TB and ensure that Infectious persons wear masks.
Testing
There are 4 TB diagnosing facilities that offer Gene Xpert tests in the city (Thorn groove hospital Laboratory, UBH, Mpilo National TB Reference Laboratory and PSH Bambanani)
A total of 18 municipal clinics and Thorngrove Infectious diseases hospital notify and treat TB patients. Central hospitals (Mpilo, Ingutsheni and UBH) and private hospital diagnose, commence and refer TB patients for notification and continuation of TB treatment to municipal clinics
Challenges affecting BCC TB Programme
The death rate for TB patients remains high (13-16% over past 5 years). According to the City Health services department, some deaths were due to co-morbidities eg. renal failure, liver failure, heart disease, anaemia, malignancies and other opportunistic infections due to Retroviral infection and antiretroviral (ART) failure.
Delay seeking care as TB symptoms are similar to COVID 19 and patients fear being sent for isolation once diagnosed with COVID19. Undernutrition worsened by the loss of livelihoods due to COVID19 contributed to negative TB outcomes. Stigma and discrimination of people suffering from TB has been classified as another challenge by the city health department.
Other contributory factors are wrong addresses given to health workers as patients do not want to be followed up at home, leading to failure to follow up the patients on time.
The city health department highlights that men are more susceptible to TB infection and death, accounting for an estimated 59 percent of total TB deaths in the city according to the latest available statistics.