Claim– A time table circulating on WhatsApp indicates schools will be reopened in phases beginning with exam writing classes on June 23.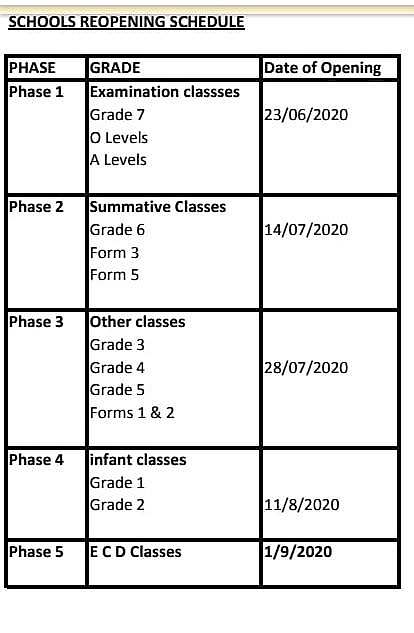 Verdict– False
CITE spoke to the the Ministry of Primary and Secondary Education's public relations officer, Patrick Zumbo, who refuted the news and said schools reopening dates have not been confirmed yet.
"That has not yet been confirmed, we are still working on the modalities but plans are on the table. It is still work in progress and we will communicate once it has been confirmed," he said.
Source: A schedule of the schools reopening has been circulating on social media as of May 27 with opening dates and classes.
Background
The Zimbabwean government closed all schools and colleges on March 24 2020 in response to the threat posed by the COVID-19 pandemic.
In making the announcement, President Emerson Mnangagwa said government would determine the date when schools and colleges would reopen after the situation has been assessed.
Meanwhile, in Bulawayo private schools are conducting online classes for learners.