CLAIM: WhatsApp has changed its group settings to include "everyone" by default so people you don't know can add you to a group without your knowing. These people may include scam messages, loan sharks etc.
This message was circulating on social media with WhatsApp users being warned to change their group settings as failure to do so would result in users being added to WhatsApp groups bypeople who are not on their contact list.
The panic could be understandable considering WhatsApps attempt to introduce a new setting in January 2021, which would've allowed the platform to share user's data with its parent company, Facebook. It received backlash from the majority of the users who were threatening to leave the platform for other user-friendly platforms, like Telegram.
The first step we undertook was to verify if WhatsApp was displaying the settings mentioned above, which was done by checking WhatsApp settings on different phones.
We found out that on both iOS and Android devices, if the settings have not been changed, then the platform's default setting for groups is on 'Everyone," but the users have two other options, which are "My Contacts" and "My Contacts Except."
This meant that there was some truth to the story circulating, but it was further verified when these settings had been introduced.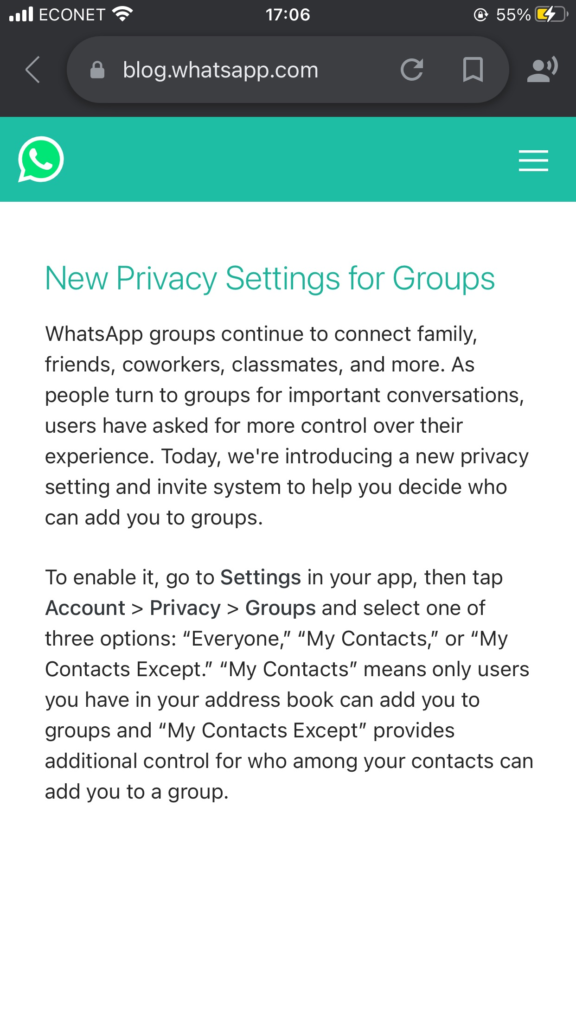 A quick search on the Google indicated that the topic was popular among Google users.
Several high-profile online sites had articles written in May 2021 about these alleged new WhatsApp privacy settings.
We found out that these particular privacy settings, which had been said to have been introduced recently, were introduced in 2019.
The WhatsApp platform initially posted about the changes on its online blog on 3 April 2019. The post indicated how WhatsApp users could change from the default setting to tailor fit their desires.
We then concluded that indeed the default WhatsApp privacy settings for groups is at "Everyone," which means that any user can add another to a group even if they are not on their contact list. They can do this without their consent.
However, the platform also gives users other options on how they want to set their group settings; this helps ensure that users can restrict unwanted additions to groups they are not interested in.
The parts that were not true on the claim is that WhatsApp had only introduced these settings recently (May 2021) and that these changes were unannounced and implemented overnight. The writer found that the WhatsApp platform's online blog post announcing these changes, which dates back two years ago, April 2019.
In conclusion, it can be noted that the viral post contained both the truth and misleading information and that there is no need to raise the alarm over the so-called "new WhatsApp privacy settings" as they are not new and can be easily changed.