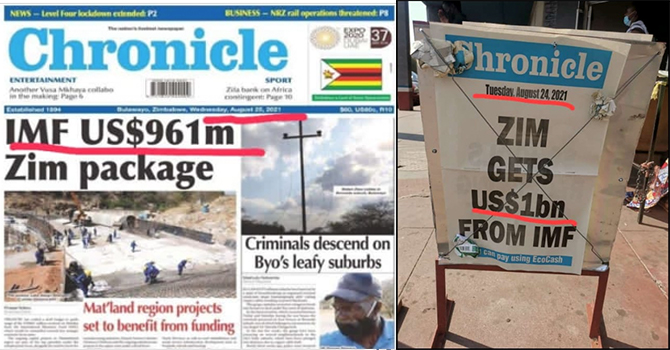 The International Monetary Fund (IMF) recently approved a general allocation of US$650 billion in Special Drawing Rights (SDRs) to its members, including Zimbabwe. These funds are meant to bolster global liquidity especially in the backdrop of the Covid-19-induced, global economic recession in 2020.
However, they were claims that the government had reported the correct figure it had received from the IMF. This was caused by the seemingly differing headlines in some of the newspapers that reported on the development.
"We would like to advise the public that Zimbabwe has received SDR 677.4 million (961 million U.S. dollars) from the International Monetary Fund under the IMF's USD 650 billion SDR allocation earmarked to provide additional liquidity to the global financial system"
The bailout is the biggest SDR package in history this will boost liquidity for struggling countries, without adding to debt burdens. The last time the Bank allocated funds to members was in 2009 following the global financial crisis of 2008.
"The SDR allocation will provide additional liquidity to the global economic system – supplementing countries' foreign exchange reserves and reducing their reliance on more expensive domestic or external debt. Countries can use the space provided by the SDR allocation to support their economies and step up their fight against the crisis."

Kristalina Georgieva Managing Director of the International Monetary Fund
Zimbabwe has been a member of the IMF since 1995 and initially had a quota equivalent to 0,17% of the total funds allocated. As of 2021, Zimbabwe's quota has been reduced to about 0,15% which infers the eligible funds under the 2021 allocation to be about US$975 million. The SDRs, do not come with strict conditions similar to other facilities extended by the IMF such as programme financing.
Zimbabwe still does not qualify to receive concessionary loans from the multilateral financial institution due to other arrears to the World Bank, the African Development Bank, European Investment Bank and bilateral creditors, which the IMF says must be cleared first before it can lend to Zimbabwe.
How Zimbabwe will use its allocation
Finance and Economic Development Minister Mthuli Ncube said the allocation will be distributed in the following manner:
The social sector; covering health, education, and the social safety nets;
The productive sector; supporting agriculture, industry and manufacturing, and the mining sector;
Infrastructure investments, and
Contingency resources, and foreign currency reserves for supporting macro-economic stability going forward.
These SDRs will therefore target the areas that have been hit hardest by the pandemic, and provide a crucial lifeline to the most vulnerable members of our society, many of whom are yet to the feel trickle down effects of the macro-economic stabilisation.