Claim: From January 1, 2023 hundreds of Zimbabweans and their children will no longer be able to live and work and go to school legally in South Africa as they are involved in criminal activities in the neighbouring country.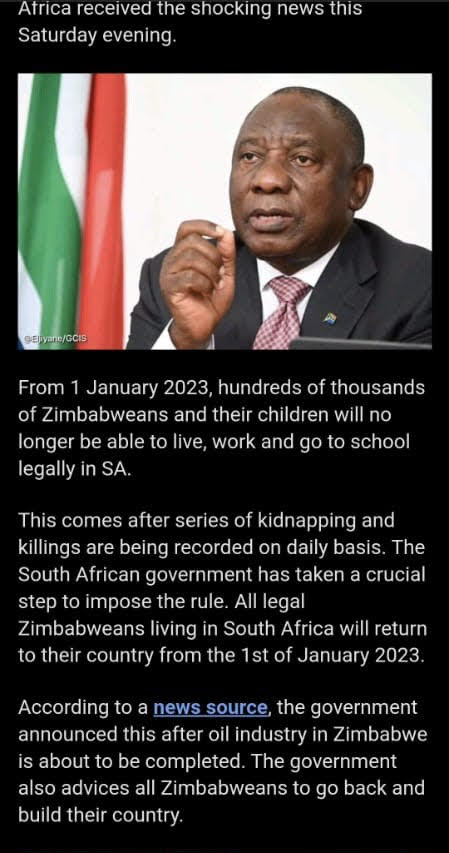 Last year, the South African government refused to renew the Zimbabwe Exemption Permits (ZEPs) and announced that Zimbabweans on that facility should move to other available permits or leave the country at the end of this year. This move had nothing to do with killings or kidnappings that have been claimed on social media posts.
In an interview with CITE, Chairperson of the Zimbabwe Community in South Africa, Ngqabutho Nicholas Mabhena dismissed the claims as non-factual, clarifying that Zimbabweans who may leave South Africa would be forced to due to documentation challenges.
"This is not factual. It is fake. Which kidnapping and killings (are these)? That is incorrect and misleading," he said.
" What is correct is that the majority of ZEP holders will not be able to renew their permits, that is the correct position."
Mabhena added that it was mischievous to link the non-extension of permits to Zimbabweans in South Africa to criminal activity taking place there.
"We know this unless the South African government changes its position and allows people of low skill to renew those ZEP but to link that to the killings and kidnappings and so on is quite misleading. This is why I am saying it is fake," said the chairperson of the Zimbabwe Community in South Africa, noting there were attempts to brush all Zimbabweans as criminals and thwart the migration agenda.
Background
The ZEPs started off as the Dispensation of Zimbabwean Permit (DZP) in 2009 when the South African government introduced them to legalise the many Zimbabweans who were already resident in the country because of the political and socio-economic situation in Zimbabwe.
The government of South Africa encouraged Zimbabweans who until then had applied for asylum to apply for a DZP and about 295 000 people applied for the permit.
Just over 245 000 permits were issued, with the balance being denied due to lack of passports or non-fulfilment of other requirements.
The permits were valid for four years.
In 2014, the DZP was renamed the Zimbabwe Special Permit (ZSP); and then in 2017 was renamed the ZEP.
About 182 000 Zimbabweans applied for the ZEP permit when the application process started on 15 September 2017.
These permits expired on 31 December 2021.
But the Helen Suzman Foundation (HSF) is challenging the termination of the ZEPs in court, arguing that the decision by the South African government would leave many people desperate and vulnerable.