Claim: A message went viral Sunday that six people were killed in an accident after police in Bulawayo chased a kombi.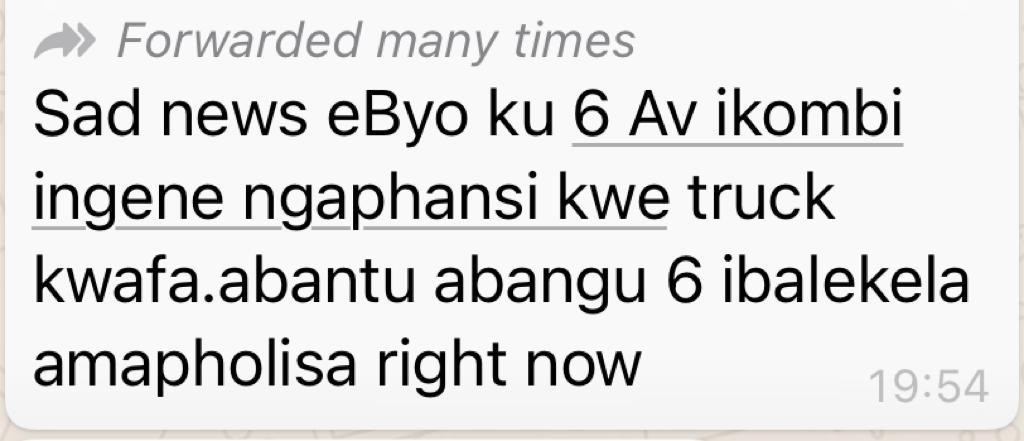 "Sad new in Bulawayo, along 6th Avenue, a kombi went under a truck, instantly killing six people while running away from the police," read the message.
Verdict: False
Acting Bulawayo Police spokesperson, Assistant Inspector Nomalanga Msebele, dismissed that message as false, saying there was no accident involving a kombi or one that killed six people.
"We wish to set the record straight that there is no kombi that was involved in an accident which killed six people anywhere in Bulawayo."

Acting Bulawayo Police spokesperson, Assistant Inspector Nomalanga Msebele, said in a press statement.
Assistant Inspector Msebele warned members of the public to desist from circulating false information, as it leads to 'unnecessary' mayhem.
"Such messages create unrest to innocent citizens who use public transport," she said, adding members of the public were encouraged to use social media productively.
This message comes after police have been mounting checks on the roads to arrest and impound commuter omnibuses, not registered with Zimbabwe United Passenger Company (ZUPCO) but ply routes illegally.
When the government effected the national lockdown order last year in March due to Covid-19, it announced that only kombis or buses registered with ZUPCO were supposed to carry passengers to prevent the spread of Covid-19.
However, this year, when lockdown measures were eased some kombis, started plying different routes in Bulawayo playing a cat and mouse chase with the police.
Last week, police in Bulawayo impounded 209 vehicles that have been flouting regulations and this is an ongoing operation.