Unscrupulous individuals saw an opportunity to possibly cheat Zimbabwean citizens and companies in the energy sector by creating a fake application form inviting them to access solar power grants worth US$154 million.
The fake application form requested individuals and small start-ups, small and large companies to apply for those grants through a google document online.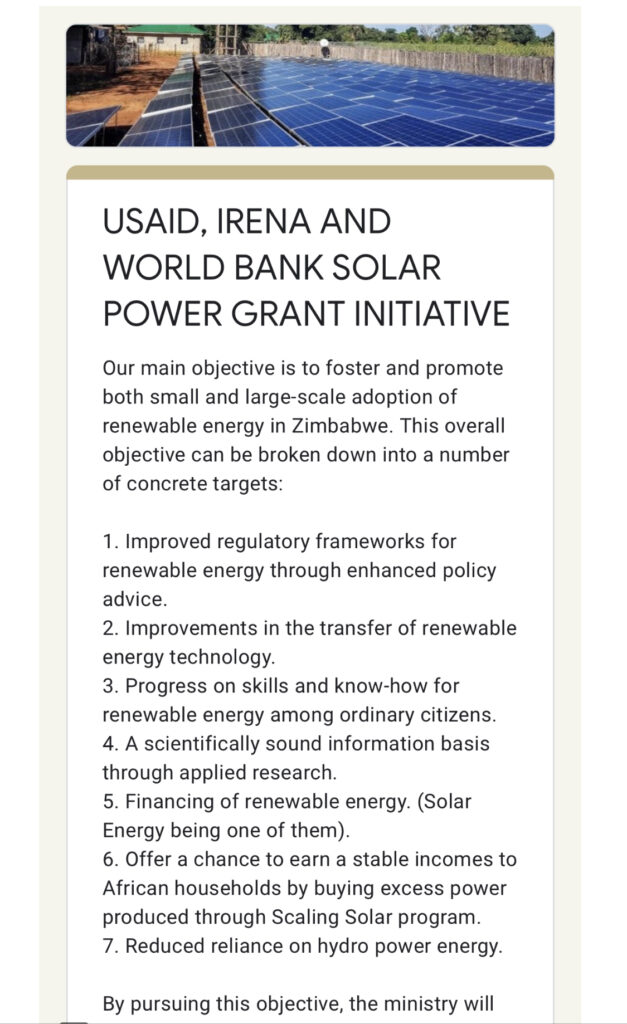 This scam may have appeared authentic as the Ministry of Energy and Power Development has partnerships with developmental organisations such as International Renewable Energy (IRENA), World Bank, African Development Bank (AFDB) on renewable energy projects.
For now, it is unclear how many responded to the advertisement, but the Ministry of Energy and Power Development has since dismissed the solar power grant call as fake and urged citizens to treat such online application links with suspicion.
"The ministry has noted with concern messages that are circulating on social media that are attributed to the Ministry. The messages are indicating that the Ministry, in partnership with USAID, IRENA, and the World Bank are rolling out a USD154 million facility as a grant for solar power projects," said the ministry in a statement.
"The statement then requests for Zimbabwean citizens and companies to apply for grants through a suspicious internet link. The ministry wishes to clarify that this is a fake statement that was done by mischievous individuals."
The Ministry of Energy and Power Development said it had been working harmoniously with the IRENA, World Bank, AFDB and other developmental partners.
"These organisations have at one time or another provided Technical Assistance for the Energy Sector. The circulating fake messages have the effect of jeopardising and soiling the good working relations that exist between these organisations and the Ministry of Energy and Power Development as well as the Republic of Zimbabwe," said the energy ministry, which indicated that all its communication was done through official channels.
"Our official website (www.energy.gov.zw) and official Twitter handle (@officialMOEPD) do not have these fake messages. The ministry wishes to inform the public to ignore the messages and also assist us in identifying the source so that they are reported to the responsible authorities."