CLAIM: A letter circulating online claimed that President Emmerson Mnangagwa has appointed Ministers and their deputies.
"His Excellency the President, Comrade E.D Mnangagwa has in terms of Section 104 of the Constitution of Zimbabwe Amended No.20 of 2013 appointed Cabinet Ministers, Ministers of State and Deputy Ministers as follows: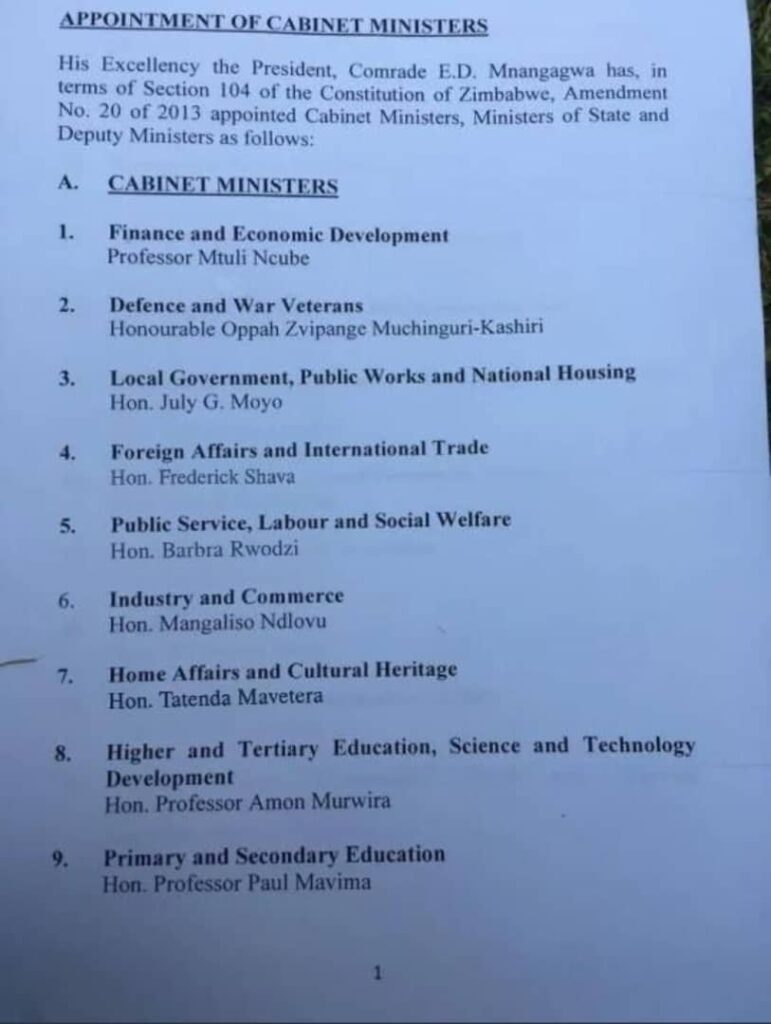 Cabinet Ministers:
1. Finance and Economic Development- Professor Mtuli Ncube
2. Defense and War Veterans- Honourable Oppah Zvipange Muchinguri- Kashiri
3. Local Government, Public Works and National Housing- Hon. July G Moyo.
4. Foreign Affairs and International Trade- Hon. Fredirick Shava
5. Public Service, Labour and Social Welfare- Hon Barbra Rwodzi
6. Industry and Commerce- Hon. Mangaliso Ndlovu
7. Home Affairs and Cultural Heritage- Hon Tatenda Mavetera
8. Higher and Tertiary Education, Science and Technology Development-Hon Professor Amon Murwira
9. Primary and Secondary Education- Hon. Professor Paul Mavima
10. Energy and Power Development- Hon Kindness Paradza
11. Transport and Infrastructure Development- Hon.Ngonidzashe Mudekunye
12. Information, Publicity and Broadcasting Services-Hon. Tafadzwa Mugwadi
13. Information Communication Technology and Courier Services- Hon. Angeline Gata
14. Youth, Sport, Arts and Recreation- Hon. Tinoda Machakaira
15. Mines and Mining Development- Hon. Priscah Mupfumira
16. Lands, Agriculture, Water and Rural Resettlement- Hon. Joshua Sacco," read the letter which is purported to be signed by Emmerson Dambudzo Mnangagwa.
Verdict: False
 Contacted for a comment Government spokesperson and Permanent Secretary in the Ministry of Information, Publicity and Broadcasting Services Nick Mangwana through his secretary said the list is fake.
"Cabinet has not been announced yet," said Mangwana.
 Meanwhile, the list had no government official stamp and date signed showing that it was fake. Also, some of the names were wrongly spelt for example Professor Mthuli Ncube's name is wrongly spelt.