Claim: A Twitter user @Blaqnana9 claimed that vitiligo is a deadly disease. "Vitiligo is a deadly disease and it really cost lives of people a brother is also affected by that deadly disease," read parts of the claim.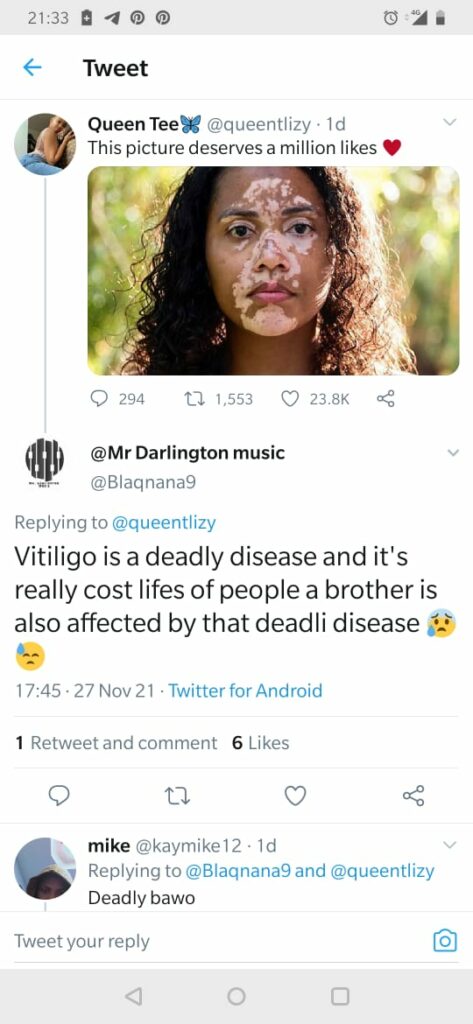 The Health Desk experts said vitiligo is a life-long condition with an unpredictable course, characterized most notably by patches on the skin with loss of the normal skin colour.
"Reported complications of having this condition include social stigma and mental stress, Sunburns and skin cancer, Hearing loss, Inflammation in the coloured part of the eye called Iritis and complications of medications used in treatment like Steroids.," they said.
The Experts said although vitiligo often only affects the colour of the skin without altering the texture or sensation, it is generally considered an autoimmune disorder.
"This is because autoimmune disorders occur when the immune system attacks the body's own tissues and organs, and in people with vitiligo, the immune system appears to attack the pigment cells in the skin. Vitiligo can also make a person more likely to get other autoimmune conditions."
The Health Desk Experts said about 25 percent of people who have vitiligo experience other auto-immune conditions like Addison's disease, which affects the adrenal glands; Vitamin B-12 deficiency anaemia (also known as pernicious anaemia); Thyroid disorders, including hyperthyroidism and hypothyroidism and conditions that impact the skin, muscles, joints, and connective tissue, like lupus, psoriasis, and rheumatoid arthritis.
They added, "Recent research has uncovered that the presence of a small group of melanin-producing cells in the inner ear is essential for hearing. As a result, conditions that cause loss of pigment cells can lead to hearing loss due to the loss of these cells.
The Experts said individuals with vitiligo can develop inflammation of parts of the eye that typically contain pigment cells, like the Iris which is responsible for eye colour, and the Retina which is the part of the eye that perceives light. 
"Other complications are related to the long-term use of steroids in the treatment of the discoloured skin patches, which can weaken the skin on which it is used."
They added that vitiligo is more noticeable on darker skin.
"In 2016, researchers examined the available studies on vitiligo and found that vitiligo was present at a high rate in Africa among women. Prevalence estimates of vitiligo in Africa range from 4 percent to 2.5 percent. The study also found high prevalence rates of vitiligo in Europe and Oceania. Another study from 2020 looked at a group of 1,487 individuals with vitiligo and found that 46.6 percent of them originally had white skin. "
Anyone regardless of race, ethnicity, or sex can develop vitiligo.
The experts said vitiligo is not contagious, or a life-threatening condition.
"It is, however, considered a life-altering condition as it affects the appearance of an individual over time and makes them vulnerable to social and cultural stigma in different parts of the world.," they said.
"There is no cure for vitiligo. There is a treatment that may help restore the skin colour but does not stop further loss of colour or recurrence. Vitiligo typically starts before age 30 and can progress to affect either the entire body or just a few parts of the body. Doctors cannot predict how the disease will progress once it starts," said the Health Desk Experts.
Vitiligo is not the only condition that affects skin pigmentation and individuals should seek professional medical care to help diagnose the cause of changes in the colour of their skin.