Claim: A statement circulating online claimed that the Zimbabwe Republic Police (ZRP) is investigating two anonymous letters sent by individuals claiming that President Mnangagwa has revived a plot to kill his deputy, Rtd General Constantino Chiwenga.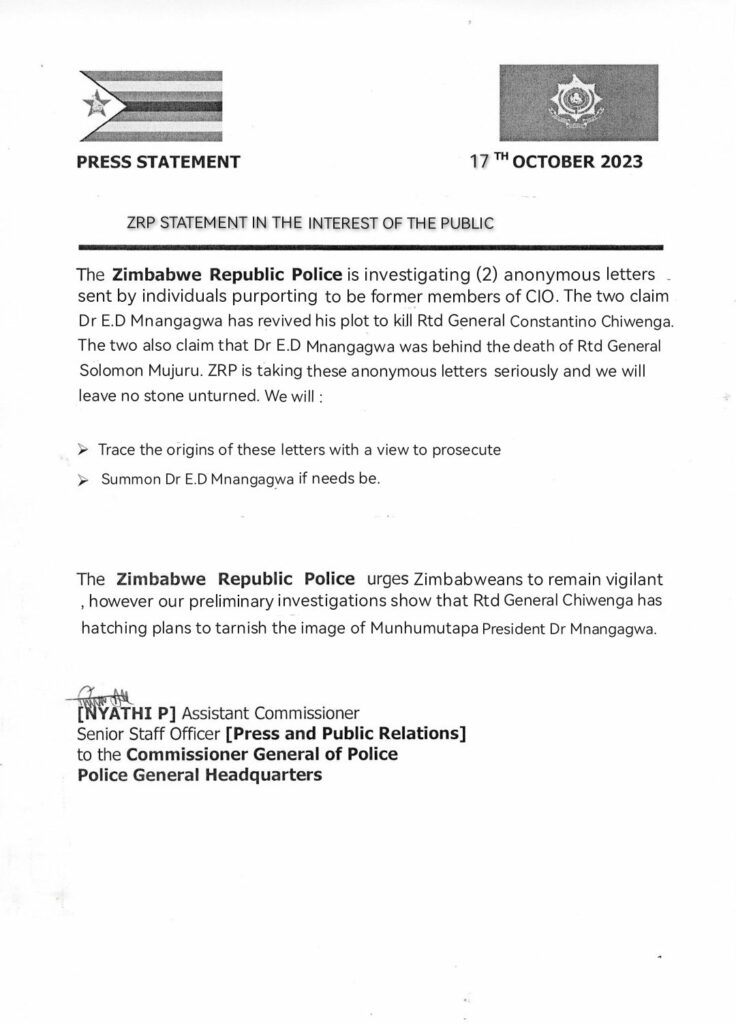 "The Zimbabwe Republic Police is investigating (2) anonymous letters sent by individuals purporting to be former members of CIO. The two claim Dr E.D Mnangagwa has revived his plot to kill Rtd General Constantino Chiwenga.
The two also claim that Dr E.D Mnangagwa was behind the death of Rtd General Solomon Mujuru. ZRP is taking these anonymous letters seriously and we will leave no stone unturned. We will: Trace the origins of these letters with a view to prosecute and Summon Dr E.D Mnangagwa if needs be," read the statement purportedly issued by national police spokesperson Assistant Commissioner Paul Nyathi.
Verdict: INCORRECT
Nyathi said the police has not issued any press statement on the country's presidium in relation to either criminal, social or political matters.
"Any statement purported to be from ZRP is therefore false, malicious and false,' said Nyathi.
Meanwhile, he also reiterated that the Police have not issued any statement with regard to the SADC SEOM Final Report as alleged by criminals on social media platforms, especially WhatsApp.