True, if your masks have thin fabric and combine multiple layers, you can have high efficiencies against Covid-19
…
Wearing of masks is one of the consistent and preventative measures that has been recommended in the fight against Covid-19, as science has suggested that widespread mask-wearing can help curb infections in the era of the fast-spreading new coronavirus.

The World Health Organisation (WHO) has said masks should be used as part of a comprehensive strategy of measures to suppress Covid-19 transmission, save lives and recommends that wearing a mask is a normal part when around people.

In Zimbabwe, wearing a face mask in public is mandatory, attracting a ZWL$ 5000 fine, under the Level Three Spot Fine, specified in the Statutory Instrument 25 of 2021, if one is found not wearing their mask and some people have actually been arrested for defying that rule.

As cases of Covid-19 continue escalating, with new variants of the coronavirus that have emerged, a few people have been spotted wearing double masks.

"Is that necessary?" others have asked and people pointed out "if it's hard to breathe with one mask on, what about two?"

But double masking as researchers call it is a move that is increasingly backed up by data.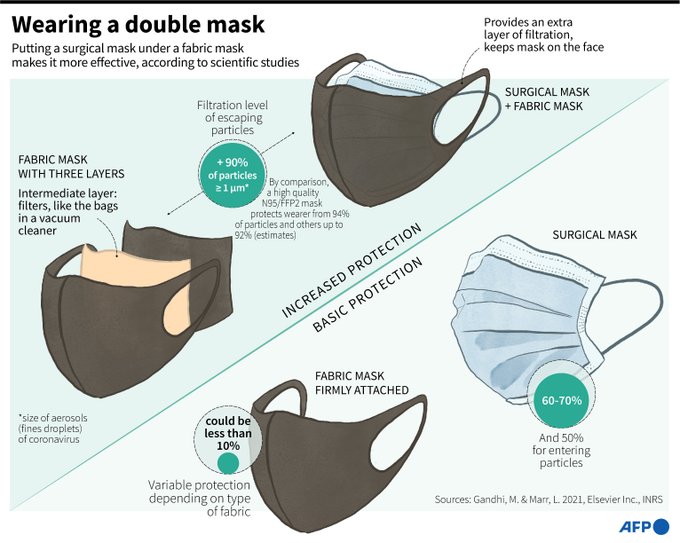 According to online research, an expert in virus transmission at Virginia Polytechnic Institute and State University and an author on recent commentary on the science behind mask-wearing, Linsey Marr, said, "if you combine multiple layers, you start achieving pretty high efficiencies" of blocking viruses from exiting and entering the airway, especially for those whose masks have thin fabric.

Dr Marr explained that respiratory viruses like the coronavirus that move between people in blobs of spittle and spray, need a clear conduit to enter the airway, which is crowded with the types of cells the viruses infect.

Therefore masks that cloak the nose and mouth inhibit that invasion from the virus and masks create an obstacle course through which air and any infectious virus must navigate.

This is why researchers suggest that layering two less specialised masks on top of each other can provide comparable protection.

Dr. Marr recommended wearing face-hugging cloth masks over surgical masks, which tend to be made with more filter-friendly materials but fit more loosely.

A review titled, "An evidence review of face masks against Covid-19" published this January in the journal Proceedings of the National Academy of Sciences of the United States (PNAS), concluded that masks are a key tool for reducing community transmission, and is "most effective at reducing the spread of the virus when compliance is high."

Read the study here: https://www.pnas.org/content/118/4/e2014564118#ref-10

WHO adds besides wearing masks, other non-pharmaceutical methods of preventing against Covid-19 should be upheld.