CLAIM: A Gukurahundi mass grave was recently discovered in Bulawayo
Source: A Facebook account by the name of "Operation Dudula Limpopo province.
Verdict: False. No mass grave was recently discovered in Bulawayo.
Sometime last week, a post accompanied by an image on Facebook by "Operation Dudula Limpopo province" circulated on social media claiming that a Gukurahundi mass grave was recently discovered in Bulawayo while ordering Zimbabweans to return home and hold President Emmerson Mnangagwa accountable for the Gukurahundi massacres.
Operation Dudula is an anti-foreign nationals activists group largely targeting Zimbabwean nationals in that country. A series of attacks and murders of Zimbabweans by the group has been reported as they believe that the foreigners are in South Africa to take their jobs.
The Facebook post reads.
"This (These) are the remains of people from Matabeleland in Zimbabwe who were killed by the Fifth Brigade under the direct instructions of Mnangagwa (Emmerson) n (and) Mugabe (former late President Robert) (in the) early eighties.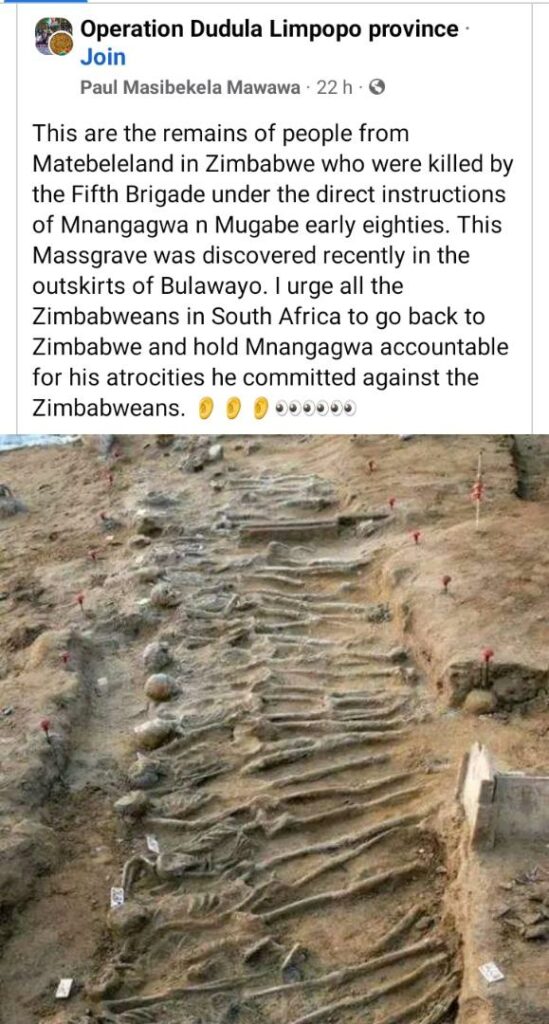 This mass grave was discovered recently in the outskirts of Bulawayo. I urge all the Zimbabweans in South Africa to go back to Zimbabwe and hold Mnangagwa accountable for the atrocities he committed against the Zimbabweans"
Gukurahundi refers to a period in the early 1980s where an estimated of 20 000 Ndebele civilians in Matabeleland and part of Midlands provinces were massacred by the North Korean-trained Fifth Brigade troop of the Zimbabwe National Army.
During these senseless killings, Mugabe was president while Mnangagwa was State Security boss. His current deputy, Constantino Chiwenga was one of the top service chiefs.
Following the Facebook post, CITE made an investigation and discovered that no mass grave was discovered near Bulawayo in recent time.
Photo Sherlock was used to trace the origins of the picture and it was discovered that the image was used in some articles before dating back to 2020.
It was also used on Christmas last year where it claimed that the mass grave is that of the soldiers killed during the Battle of Imera (Palermo) between the Greeks and the Carthage, resulting in the victory of the Greek Siciliotes in 480 BC.
CONCLUSION: No mass grave was recently discovered in Bulawayo and the picture circulating on social media is misleading.