Claim: The High Court has granted an order stopping MDC-T's congress set for this Saturday
Verdict: Incorrect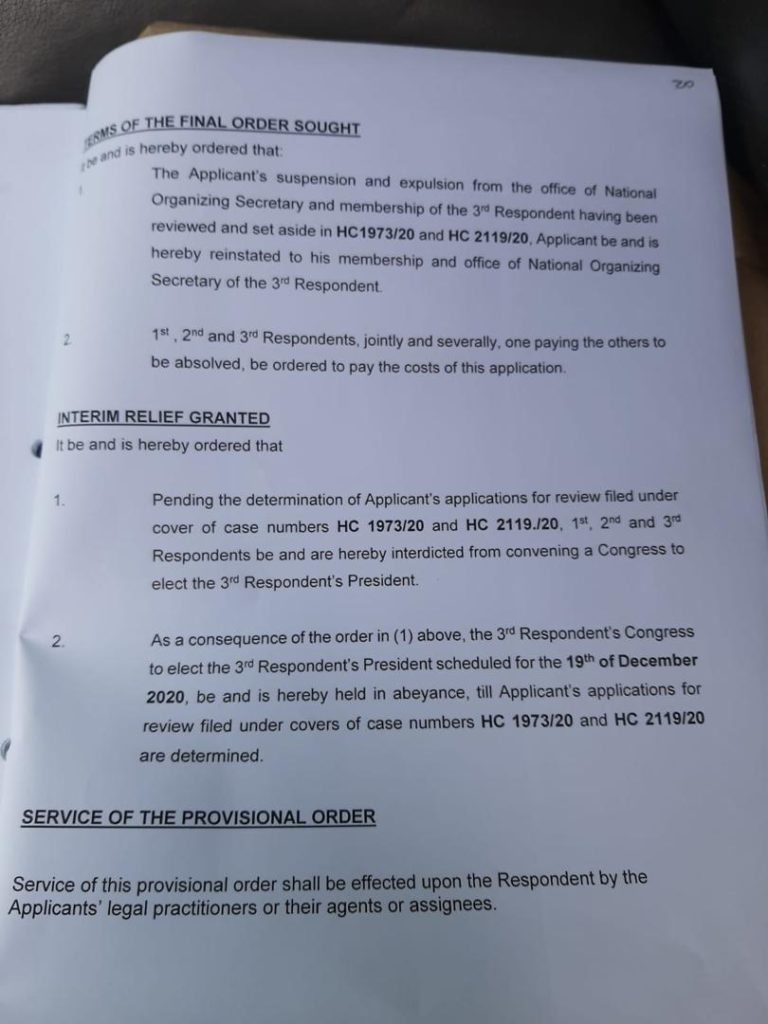 …
Background: An image of a court order has been circulating on social media platforms claiming that the Bulawayo High Court had stopped MDC-T from holding its congress this Saturday.
This comes after expelled former MDC-T National Organising Secretary, Abednico Bhebhe filed an urgent application at the Bulawayo High Court in an attempt to stop the party's extraordinary congress, set for this Saturday in Harare. 
In an interview with CITE, Bhebhe confirmed the High Court was yet to sit and determine his case and no ruling had been decided.
"The image on social media is false, someone quoted the provisions of the draft order of the urgent chamber application and edited that to seem as if my application was granted . Our case is yet to be heard at the Bulawayo High Court Wednesday," he said.
A Supreme Court ruling in March ordered MDC to hold a fresh congress to replace the late leader, Morgan Tsvangirai and the party has been going through electoral processes building up to the event.
It was during the build up that Bhebhe was suspended on November 4 but was 'surprisingly' allowed to remain an ordinary card carrying party member.
He then filed an application for review at the High Court on November 13, 2020 under case cover HC 1973/20 seeking that his suspension from his position as National Organising Secretary of MDC-T by Khupe via a letter dated November 29, 2020 be reviewed, declared unlawful and set aside.
Bhebhe then contested at the provincial presidential nomination election in Bulawayo where social media reports claimed he had polled 170 votes, followed by Khupe who received 35 votes while interim secretary-general Douglas Mwonzora had seven votes.
However, the Election Management Consultant who conducted the MDC-T nomination poll, Reverend Anglistone Sibanda said Khupe received 59 votes out of 122 votes cast, making her the province's presidential choice
On November 30, Bhebhe received a call from his lawyers that they had a letter from Khupe confirming she had formally expelled him from MDC-T.
The party expelled him citing allegations of "grossly violating the Constitution of the party by supporting another political party other than the MDC-T".
He then moved to file an urgent chamber application on December 11, 2020 and cited the party's acting president, Thokozani Khupe as the first respondent, the party's chairperson Morgan Komichi as the second respondent while MDC-T party is the third respondent.
The former national organising secretary wants the High Court to first determine the legality of his expulsion before MDC-T holds the 'controversial' extra ordinary congress.