Claim- The Ministry of Health and Child Care is offering nurse aide training and will facilitate the placement of trainees in countries such as Dubai and Australia.
A popular post containing an advert purported to be from the health ministry o inviting Zimbabweans interested in working in Australia, the United Arab Emirates, Canada and Europe has been circulating on social media which some people have allegedly been responding to with the hope and faith that it was official communication from the government.
Is the government offering such a service?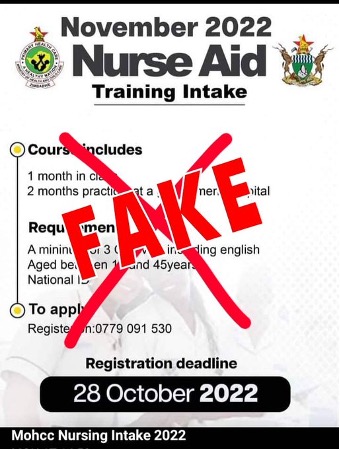 The ministry's communications department has dismissed the social media claim, which has been circulating on various social media platforms, particularly WhatsApp. The public has previously been advised to follow conventional communication channels as well as official accounts of the health ministry for reliable news and announcements.
"The Ministry of Health and Child Care wishes to advise members of the public that it has NOT advertised for any Nurse Aid Intake as purported by a Fake Advert making the rounds across some social media platforms," read a statement from the ministry.
"Members of the public are also hereby warned to be wary of fraudsters who are bent on fleecing unsuspecting people of their money in the guise of such adverts,' said the ministry.
The advert also uses a personal cellphone number for the application process and does not use any official website link for the applications.