Claim: Zimbabwe Electoral Commission Chairperson Priscilla Chigumba attended the Zanu-PF conference in Gweru.
Verdict: INCORRECT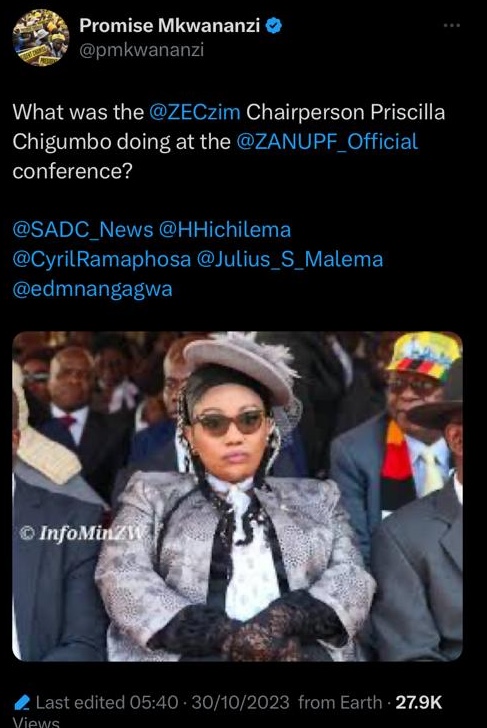 Opposition party Citizens' Coalition for Change (CCC) spokesperson, Promise Mkhwananzi, posted on X alleging that the ZEC boss Justice Priscila Chigumba attended the just-ended Zanu-PF Conference.
"What was the @ZECzim Chairperson Priscilla Chigumbo doing at the @ZANUPF_Official conference?
@SADC_News @HHichilema @CyrilRamaphosa @Julius_S_Malema @edmnangagwa"
Mkhwananzi attached a picture of Chigumba seated in front of a man wearing a Zanu PF insinuating it was at the said conference
The 20th Zanu-PF National People's Conference was held at the party's conventional center in Gweru, from October 25 to October 29, 2023.
Zanu PF director for Information and Publicity Farai Marapira, dismissed the claim citing that the opposition was merely spreading false information.
"It is unfortunate that the opposition is going to such lengths of spreading misinformation. Priscila Chigumba was not at the conference, she is not part of our Zanu-PF structures either," Marapira said.
What is wrong with the picture?
The picture used by Mkhwananzi was taken at the inauguration of President Emmerson Mnangagwa and was shared by the Ministry of Information, Publicity and Broadcasting on September 4, 2023.