Police have condemned a statement purportedly issued by them claiming that they had initiated a manhunt for President Emmerson Mnangagwa in order to interview him in connection with an attempted murder case
The fake police statement went viral on social media claiming that President Mnangagwa connived with Marry Mubaiwa, former wife of Vice president, Constantino Chiwenga, in order to poison him.
The statement further alleged that police were offering US$ 1 000 to anyone who had information on President Mnangagwa's whereabouts
"It is alleged that sometime in 2018, 85-year old Mnangagwa connived with Mary Mubaiwa, the then General Chiwenga's wife, to poison her husband with an unknown substance," reads part of the fake statement that featured the logo of the Zimbabwe Republic Police and signature of National Police Spokesperson, Assistant Commissioner Paul Nyathi.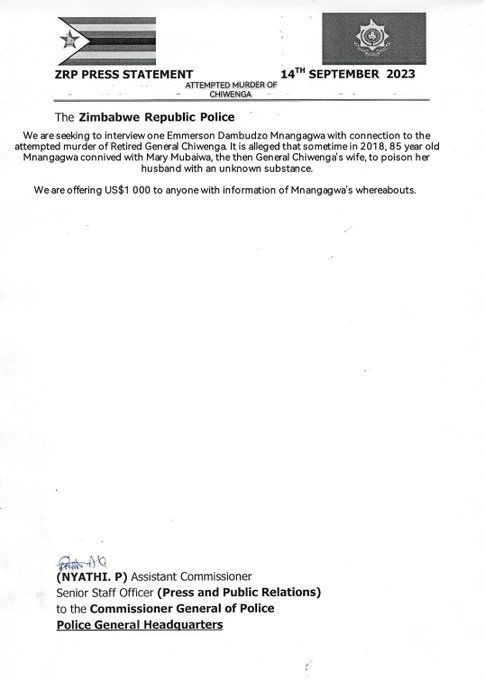 The national police spokesperson has since dismissed the statement as fake saying that it was "photo shopped, edited and endorsed with fake details."
"ZRP dismisses a fake and false purported press statement issued by a criminal alleging that the Police seeks to interview His Excellency, The President of The Republic of Zimbabwe," Asst. Comm Nyathi said and warned whoever was behind it, that the police will pounce on them.
"The law will take its course on criminal elements and political activists who want to malign the office of His Excellency, Dr Emmerson Mnangagwa and the Zimbabwe Republic Police."