Following a string of fake memorandums attributed to the Public service Commission (PSC), the commission has publicly clarified that all official communication is branded and comes directly from its Head Office.
Early this week, the commission was forced to refute claims that went viral on social media stating that the government was planning to introduce month-end shopping trips for civil servants in South Africa.
This message drew widespread condemnation as Zimbabweans criticised the government for failing to reward civil servants handsomely and were now resorting to 'backhand' tactics.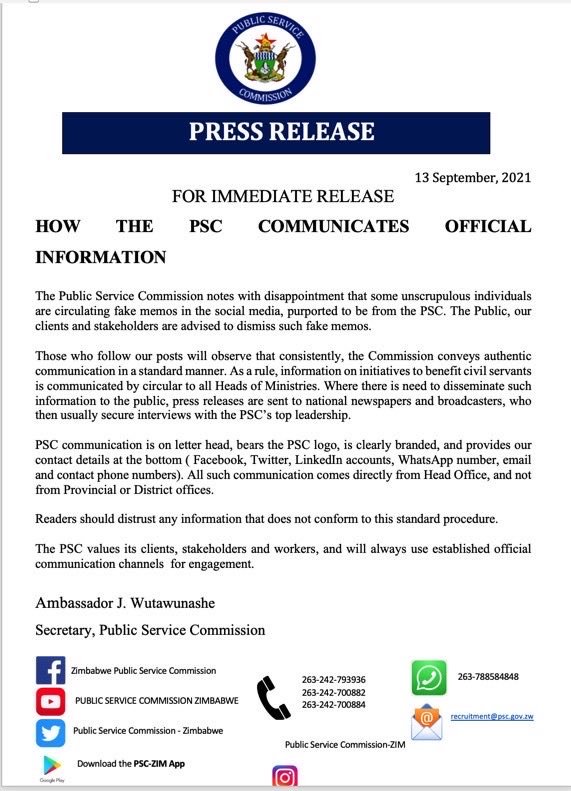 Secretary for the PSC, Ambassador Jonathan Wutanashe, said the commission has noted with disappointment that some unscrupulous individuals are circulating fake memos in the social media, purported to be from them.
"The public, our clients and stakeholders are advised to dismiss such fake memos," he said in a statement.
"Those who follow our posts will observe that consistently, the commission conveys authentic communication in a standard manner."
Wutanashe noted that as a rule, information on initiatives to benefit civil servants is communicated by a circular to all heads of ministries.
"When there is need to disseminate such information to the public, press releases are sent to national newspapers and broadcasters, who then usually secure interviews with the PSC's top leadership," said the secretary who indicated that all PSC communication is on letterhead.
"The letterhead bears the PSC logo, is clearly branded and provides our contact details at the bottom (Facebook, Twitter, LinkedIn accounts, WhatsApp number, email and contact phone number.) All such communication comes directly from Head Office and not from provincial or district offices."
The PSC secretary advised readers to distrust any information that does not conform to "this standard procedure" of communication.
"The PSC values its clients, stakeholders and workers, and will always use established official communication channels for engagement."