Claim: Judges refuse to hear the application by the Helen Suzman Foundation to interdict the Minister of Home Affairs to mass deport Zimbabwean Exemption Permit holders.
Verdict: INCORRECT
The Helen Suzman Foundation (HSF), which launched a court application to stop the arrests or deportation of Zimbabweans with Exemption Permits (ZEPs), has dismissed as false reports that judges refused to hear their application to stop the South African Minister of Home Affairs from mass deporting Zimbabweans.
This was in response to South Africa's Home Affairs Minister, Aaron Motsoaledi's move to appeal two Gauteng High Court judgements relating to ZEPS where HSF filed a court application in early September to halt arrests or deportation of ZEP holders.
On September 15, an online news platform posted on X (twitter) that judges had refused to hear the application by HSF to interdict the Minister of Home Affairs to mass deport the Zimbabweans.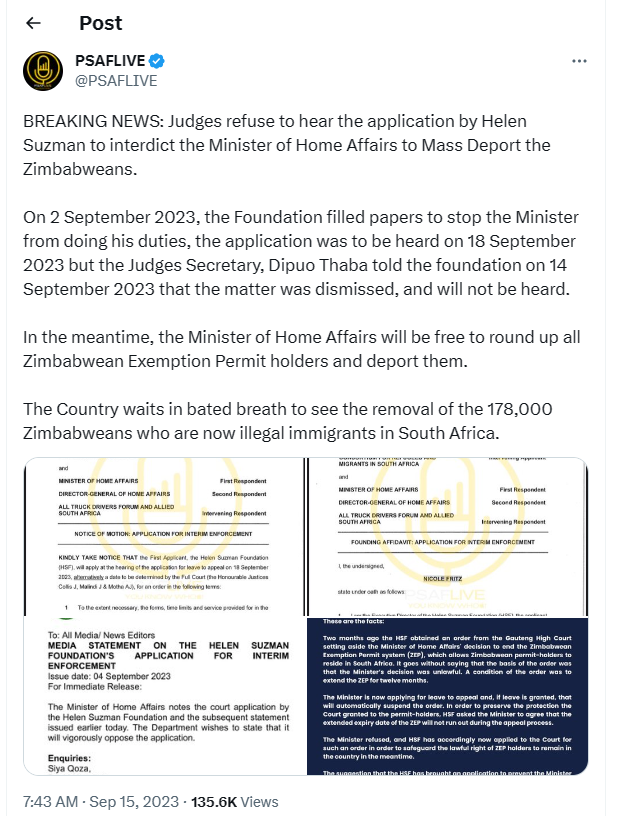 According to the online portal, on September 2, 2023, HSF filed paperwork to prevent the Home Affairs Minister from doing his duties.
"The application was to be heard on September 18, 2023 but the Judges Secretary, Dipuo Thaba told the foundation on September 14, 2023 that the matter was dismissed, and will not be heard," said the platform.
" In the meantime, the Minister of Home Affairs will be free to round up all Zimbabwean Exemption Permit holders and deport them. The Country waits in bated breath to see the removal of the 178,000 Zimbabweans who are now illegal immigrants in South Africa."
HSF, on the other hand, condemned the aforementioned as fake news.
"FAKE NEWS. Again. You could get more reliable legal news from your local lamppost. It is purely intended to create as much chaos, confusion and harm as possible. It is par for the course for a shadowy organisation taking no responsibility for its disinformation," said the foundation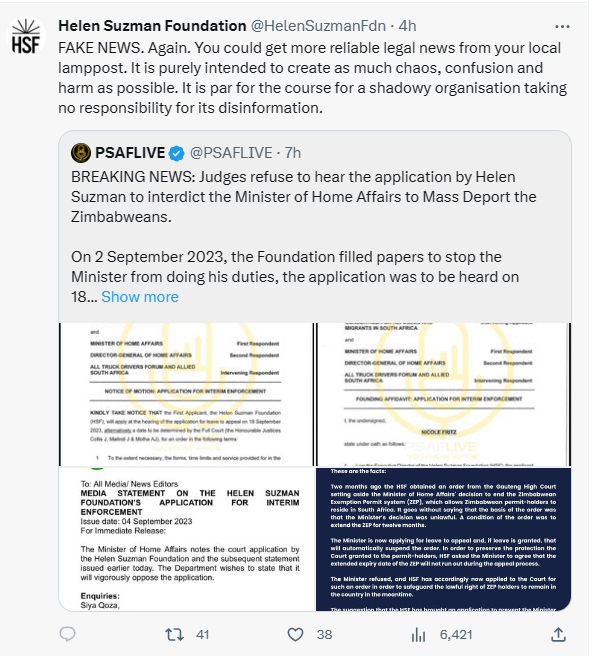 In June, a full Bench of South Africa's Constitutional Court found that Motsoaledi's decision to terminate the ZEP was invalid, unlawful and unconstitutional.
The Constitutional Court also extended the validity of ZEPs until June 2024 and also ordered in both matters that ZEP holders must not be arrested or deported and that permit holders must be allowed to enter or leave South Africa.
The matter was between the Home Affairs Department, HSF and the Consortium for Refugees and Migrants in South Africa.
After that ruling, the Home Affairs Minister instructed his lawyers to apply for leave to appeal both judgments because they "set a dangerous precedent."
As a result of that action, HSF filed a court application to halt deportations of Zimbabweans.
HSF stated that the Home Affairs minister had refused to observe the protections of ZEP holders pending the conclusion of the appeal process, implying that there would be no real relief to be granted ZEP holders if that is the court's unlimited determination.
End//…