Claim: The Mzilikazi Royal Family and Bulelani Lobengula Khumalo called for more sanctions against Zimbabwe
Verdict: Incorrect
The Mthwakazi KaMzilikazi Royal Kingdom has distanced itself from a letter circulating on social media in which the royal house asked for further sanctions in Zimbabwe in response to the country's disputed elections and socio-economic circumstances.
The Mthwakazi kaMzilikazi Royal Crown Family consists of the Mzilikazi Royal House and the Khumalo Clan, whose descendant Bulelani Lobengula Khumalo, claims the Ndebele Throne.
In a viral letter, Bulelani Lobengula Khumalo ka Mzilikazi, the Mthwakazi King appealed to the West "calling upon the world to add more sanctions against Zimbabwe," particularly its political and security leadership.
The letter continued to read: "We are tired of these people. Just recent President Nelson Chamisa for the Citizens Coalition for Change (CCC) won the elections but they were stolen from him"
"We need the world to act instantly. It is high time that we as Mthwakazi people are freed from the chains of this evil Zimbabwean regime. Let the world initiate my calls as a matter of urgency," read part of the letter.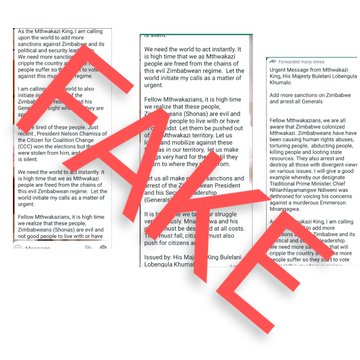 However, these claims have been dismissed by the office of King Bulelani Lobengula Ka Mzilikazi.
"We would like to distance ourselves and the King from a letter circulating on social media concerning sanctions and Zimbabwe elections. It is disturbing to see such abhorable statements falsely attributed to our King," said the King's office.
"Whoever is behind this unacceptable behaviour should stop immediately."
Instead, the King's office said the focus should be on its annual – founder of the Ndebele Nation – King Mzilikazi Commemorations to be held on September 9, 2023, at Mhlahlandlela, which is located 22 kilometres from Bulawayo along Old Gwanda Road and was King Mzilikazi's last known capital.
"Mthwakazi Omuhle, our focus now is on our bid day, the ninth of September 2023, which is our founding King Mzilikazi's Day. Let's meet there."
Recently, the Mzilikazi Royal House and the Khumalo Clan, claimed the Emmerson Mnangagwa-led government showed them generosity by promising to restore Zimbabwean citizenship to members of the royal family who were disenfranchised by the country's long history of racial divisions.
This gesture was regarded by the Mzilikazi Royal House as a "momentous step towards the restoration of cultural heritage and unity in Zimbabwe.