Claim: Zimbabwe has removed the mandatory wearing of face masks in public spaces as a protection against the Covid 19 pandemic.
A story circulating on WhatsApp suggests that Zimbabwe has repealed its Covid 19 regulations which make the wearing of masks mandatory in public spaces.
Part of the story reads: "Zimbabwe has repealed COVID-19 rules that made masks mandatory in indoor public spaces, limited the size of gatherings and imposed entry requirements at its borders, the health minister VP C. Chiwenga has said.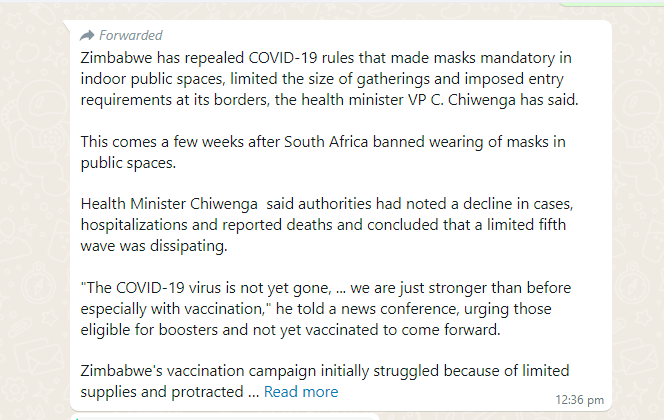 The story is not true, face masks are still mandatory in Zimbabwe despite a drop in Covid 19 cases.
It remains a legal requirement for one to wear a face mask while in a public space and failure to adhere to this attracts a fine.
According to the Ministry of Health, the following regulations are still in place:
Domestic Measures
Businesses may operate from 07:00-19:00 daily.
Access to nightclubs, restaurants, and bars is limited to vaccinated people. Bars and restaurants can operate 08:00-03:00.
Officials have asked hotels and lodges to provide room service to prevent guests from congregating in restaurants.
Public gatherings must not exceed 100 people.
Intercity travel is permitted. Commercial transport in cities remains operational with COVID-19 protocols.
Gyms, health spas, and fitness centres remain open to vaccinated clients, staff, and athletes. Children below 14 will undergo screening for COVID-19 symptoms.
Facemasks are mandatory in public areas.
International Travel Restrictions
Vaccinated travellers must show proof of a completed vaccination scheme. It remains unclear whether a booster shot is required for vaccination to be deemed complete.
Unvaccinated or partially vaccinated travellers must present a negative PCR test result taken less than 48 hours before their scheduled arrival via the Trusted Travel Initiative platform. Accredited laboratories work in collaboration with the Trusted Travel Initiative. Authorities may deny entry to people without a test result or displaying COVID-19 symptoms.
Unvaccinated travellers leaving the country must present a negative COVID-19 test result taken within 48 hours of departure.