Although children are much less likely to become seriously ill with Covid-19, health experts said some do become sick, are hospitalised and require treatment.
According to the World Health Organisation (WHO), children and adolescents have been far less affected by Covid-19 and their symptoms have almost always been mild.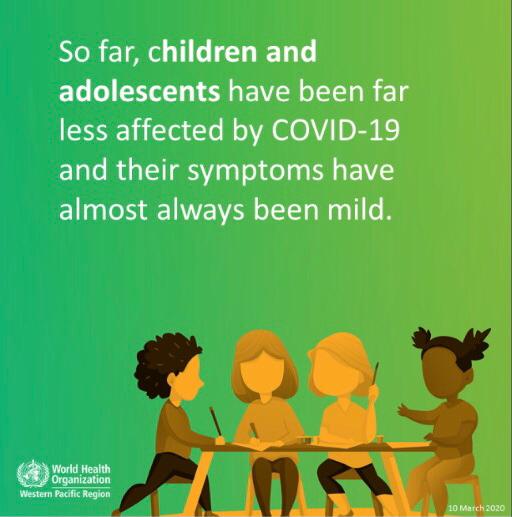 Available Covid-19 data suggests that children under the age of 18 years represent less than 10 percent of reported cases globally, with relatively few deaths compared to other age groups and usually mild disease.
However, cases of critical illness have been reported, with the Centre for Disease Control and Prevention, saying as with adults, pre-existing medical conditions have been suggested as a risk factor for severe disease and intensive care admission in children.
In a journal article: The paradox of re-opening schools in Zimbabwe in the COVID-19 era, Dzinamarira and Musuka concur that at present there is limited data on the risk of infection in children and transmission in this age group.
Therefore with the easing of Covid-19 restrictions, most countries globally re-opened schools for face-to-face learning.
Zimbabwe implemented a phased schools reopening approach and as more learners returned to school, there were reports of Covid-19 outbreaks in schools from different parts of the country.
As schools in the country closed the first term last week Friday, the Ministry of Primary and Secondary Education, said there were only 41 learners with active Covid-19 cases and urged stakeholders to exercise caution so that no new infections are reported when these learning institutions open for the second term.
At one time, John Tallach High in Matabeleland North Province last year in November recorded 184 learners testing positive for Covid-19 while other schools have also reported outbreaks of varying impacts.
"The Covid-19 outbreaks in schools have been linked to community transmission with most communities reported to be no longer adhering to standard Covid-19 preventative guidelines due to fatigue," said Dzinamarira and Musuka.
Acting Chief Executive Officer for Mpilo Central Hospital, Professor Solwayo Ngwenya, said these recent Covid-19 outbreaks in schools are an important public health problem given children can become vectors who can move the disease.
"Children can be asymptomatic carriers with the capacity to infect their older family members resulting in severe disease and possibly death," he said.
According to WHO in its 'Key messages and actions for COVID-19 prevention and control in schools,',' resources must be increased to schools to strengthen symptom screening and reporting, monitoring, rapid testing and tracing of suspected cases.
WHO encourages schools to update or develop emergency and contingency plans.
"Work with officials to guarantee schools are not used as shelters, treatment units. Consider cancelling any community events or meetings that usually take place on school premises, based on risk," said the health agency.
Schools are also encouraged to monitor school attendance.
"Implement school absenteeism monitoring systems to track student and staff absence and compare against usual absenteeism patterns at the school. Alert local health authorities about large increases in student and staff absenteeism due to respiratory illnesses," WHO noted.
Some of the key messages from WHO include:
•Sick students, teachers and other staff should not come to school
•Schools should enforce regular hand washing with safe water and soap, alcohol rub/hand sanitizer or chlorine solution and, at a minimum, daily disinfection and cleaning of school surfaces
•Schools should provide water, sanitation and waste management facilities and follow environmental cleaning and decontamination procedures
•Schools should promote social distancing (a term applied to certain actions that are taken to slow down the spread of a highly contagious disease, including limiting large groups of people coming together)